The Emperor is the card of Fatherly authority. You are with, or you are somebody who is providing security and an element of structure to your work or personal life. There is an air of confident masculine energy surrounding you which allows for you to overcome any problem. The Emperor is a YES.
Upright Emperor – Yes or No?
The Emperor is a strong man. He sits atop of his throne in a manner that commands both attention and respect. He is the creator of rules and regulations. His glance is stern as he awaits the next problem that he will undoubtedly solve with ease. He is a ruler and an expert, like you, in his field. His knowledge and energy overrule his emotional side but this is not impossible to reach as the small river at the foot of the mountains behind him suggests.
This card indicates that if you are not offering or surrounded by a masculine type of stability in your personal life, then you are likely to be in a position where you are in charge of others, most likely in your place of work. This is probably towards a regulating area of work such as government or local council, possibly even law. Daunting as it may sound to others, to you this is a gentle stroll in the Moors of Avalon. You persevere without a slight amount of worry. The Emperor upright for you, is a most likely YES.
The Emperor Reversed – Yes or No?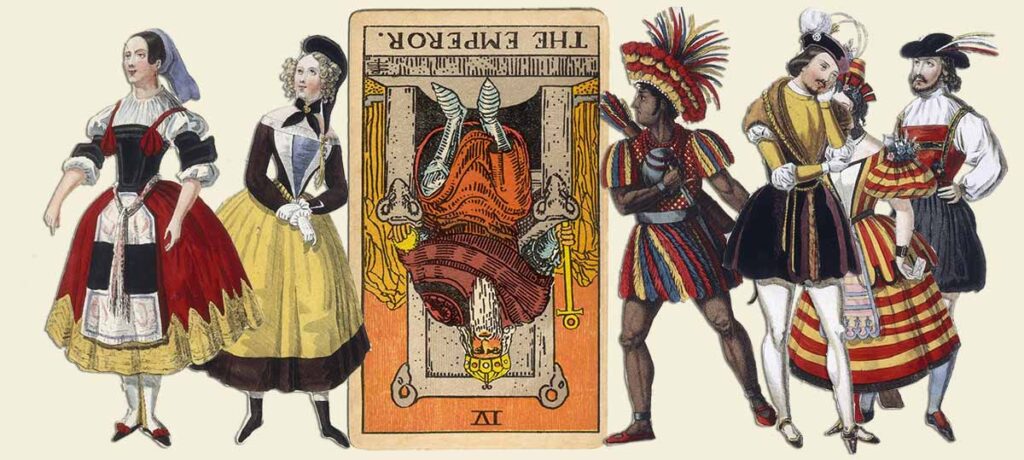 If we stop to smell the roses, sometimes we can notice other things that are amiss around us. Is there somebody around you who is not acting in an adult like manner? Perhaps they are behaving in more of a 'bullying' or 'immature' way. This isn't necessarily a love situation, it could be a friend, a boss or a family member. Whoever they are, I want you to take a moment and think about what their energy does to your soul. I feel as if the energy is being drained from you and put into them, which is great for them, but for you, it leaves you feeling lifeless and out of control. The Emperor in reverse here is sadly a most likely NO. There is however, hope if you seek out a Queen card, especially during powerful times such as a full moon or a lunar eclipse.
The Emperor Meaning for Love – Yes or No?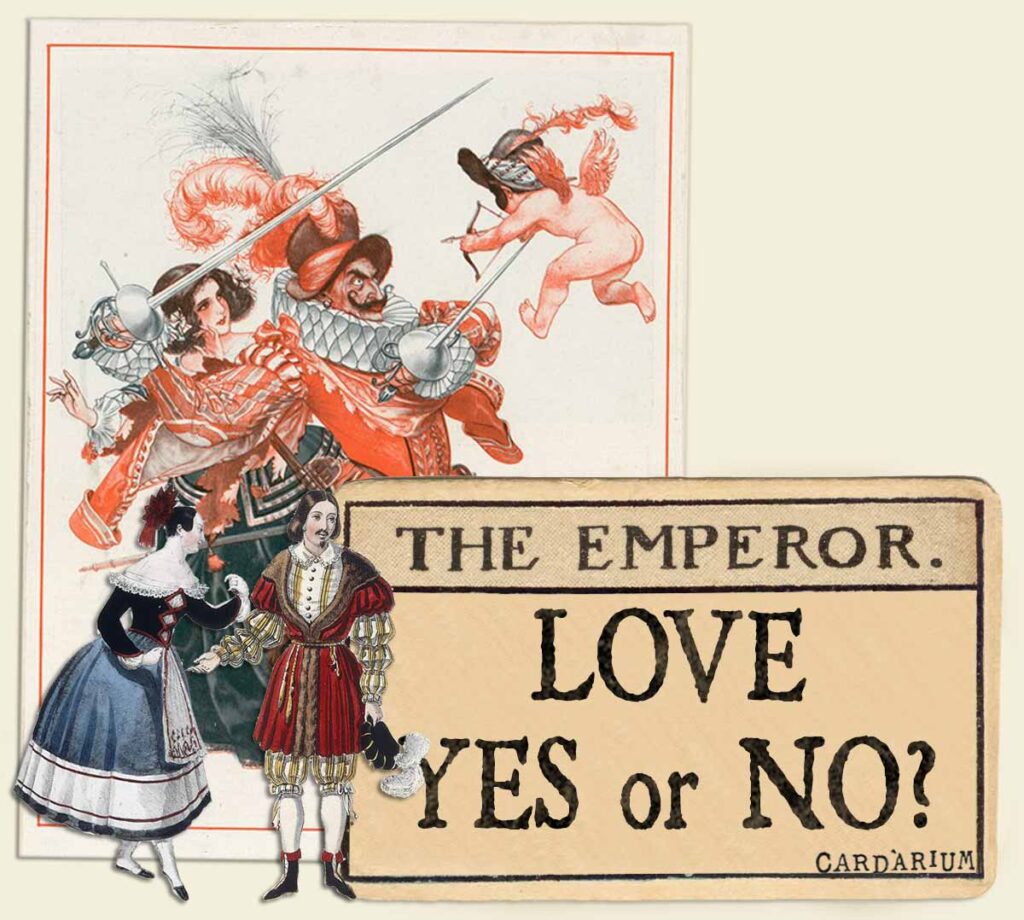 Our magnificent Emperor is the bearer of good news! In a love reading, he shows his strong stature when you need to know that you are safe. Regardless of whether you share your soul with another or if you are seeking it, he is here to assure you that you are about to enter into a very stable period of your life.
You will receive the love and attention you desire and most wonderful of all, he is, or indeed will be, a man of loyalty and good values. This is something you have craved for quite a while now, and I am only too pleased to inform you that you are heading in a marvellous direction! The Emperor, if received in a love reading is a probable YES, but do be wary of cards such as the Three of Swords because this can indicate a level of battle before happiness.
The Emperor Love Reversed – Yes or No?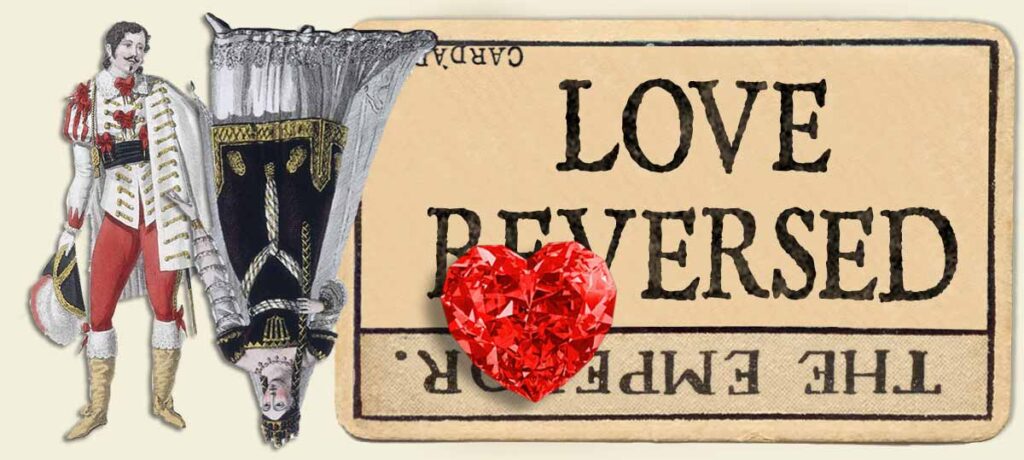 Healthy relationships are all about equality. We speak to be listened and we listen to understand. If you are not in this type of secure and loving environment, this is likely why you have received The Emperor here in reverse. It isn't making you happy, is it? This doesn't need to be a make or break decision for you at all, but what you do need is to have a think about what matters to you when it comes to love. If a behaviour is unwanted in replacement of a loving yet lacking alternative, then you may benefit from gentle conversation about balancing the scales of love. I prefer to offer a most likely NO for this type of reading, but this is not the be all and end all.
The Emperor Meaning For Advice – Yes or No?
You want to improve an area of your life, and The Emperor is encouraging you to do just that. He doesn't stand for uncertainty, he doesn't stand for,' I'll think about doing that tomorrow.' He stands of a strong and justified move for the better. He is the one who invented systems that are in place for us all, and he is yelling at you to move forward with your plans and not give doubt or heckling from others the option to stand in your way. In fact, you don't even hear the heckles because you are so focused on getting what you want. This is a powerful and very likely YES, but be aware of stumbling quarrels and unnecessary emotions that appear in Sword cards.
The Emperor Meaning For Advice Reversed – Yes or No?
I feel like the one thing you seek advice on, isn't being taken seriously. When The Emperor shows up in reverse for souls who look for answers, I don't see a solemn response. I see people surrounding your aura and possibly laughing at you. Maybe they feel threatened by your ideas or passions. It is likely that they feel regretful that they didn't think of it or act on it first but however this has unfolded, we have a situation here where you are not being listened to. You may want to decide where to go from here and aim to be more assertive. I offer here a likely NO, but don't be disheartened because there are ways out. Cards like Strength or the 4 of Wands are likely to help you here.
The Emperor Health – Yes or No?
The Emperor is asking you to look inward and remind yourself that you've got this. You don't need to be on the go 24/7 in order to achieve optimum health and well being. Well being can also be found on those slower, lazy days where you decide that you are going to put your feet up and slow down. He is like a whisper in your ear, telling you that you don't need to try so hard because it is already coming so naturally to you. If you overdo it, you may end up taking several steps backwards. For health, The Emperor is well on its way to a YES, but just be mindful of overdoing it.
The Emperor Career – Yes or No?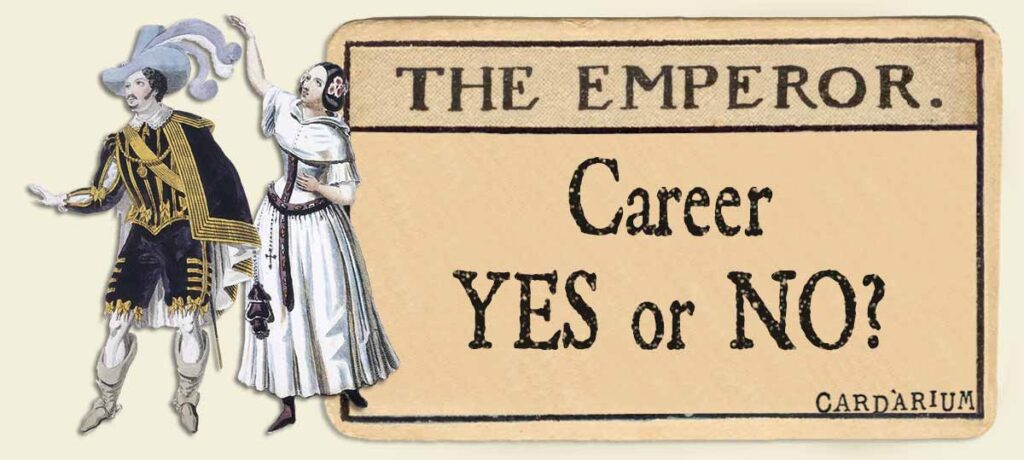 Fortune finds itself here with you, and we all know that doesn't have to indicate money. Your fortune is your strength. You are coming up apples in your career, and these fruits are to be admired by others. You show them your organising skills, and they in return show their respect. They recognise your hard work, and in return, you offer safety and security in your position. This is a most definite desirable card to pull in a career reading, especially surrounding the achieving of goals and creativity. You could see a pay rise or promotion as a well earned nod to your incredible approach. A most likely YES, but be mindful not to get too full of yourself. Plans backfire quicker than they were born.
The Emperor Interpretation In A Practical Reading – Yes or No?
Now you know just how powerful The Emperor's energy is, let's see some popular questions that arise during readings where he shows himself.
"I am desperate to follow a healthy eating plan. Where do I even begin?"
Have you been thinking about this for a long time? I feel like you have but that you have avoided it, because you haven't started making those healthier changes, have you? Maybe for a day or two, but when it gets tough, you revert back to old habits that are no longer serving you well. It takes a strong mind to jump into a new project and an even stronger mind to stick with it. I know you can do it, and you know you can do it,so whatever it is that is stopping you is old and tiresome. Go easy on yourself here, change isn't always overnight but with good intentions and a strong plan in place, you are likely to succeed.
"My father and I do not get along. Will this ever change?"
I sense two strong characters who clash more than not. Being strong isn't a bad thing at all, we use our strength to get us through tough situations in our lives, but the apple hasn't fallen far from the tree here. It could be that the two of you are so similar in some ways (not all of course), you fail to see when the other is wrong and when the other is right. Yes, most certainly stick up for yourself when you need to, but the both of you would benefit from letting your guard down once in a while and offering a slightly more gentle version of yourselves that is well hidden but absolutely there.
"Will I get that promotion at work?"
You have worked incredibly hard to be seen at your work, and I have a feeling this could well pay off shortly. You are determined in both strength and ability to succeed, and you are moving towards that very path. Focus on what comes next, if you do land this promotion, how would it change your life? Would you need to work more? Would you be in charge of others? The more preparation you do not just to get it, but for the long run, the better others will see you as the one for the job!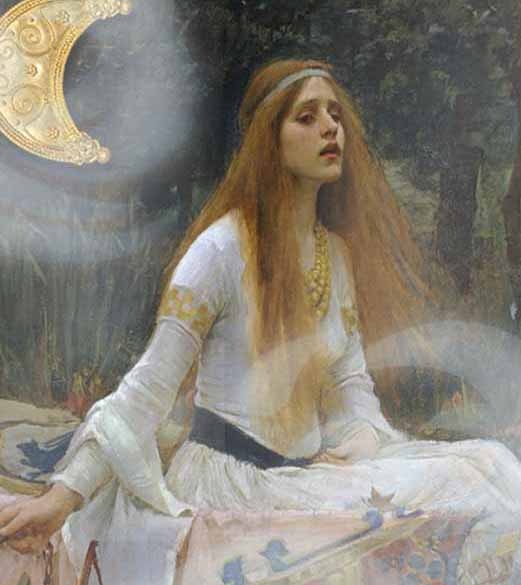 Majesty of the Rivers and Mists
I am Lady Avalon of The Night
A blessed being in disguise
My hair flows freely in the breeze
My guidance helps you feel at ease.