Summary: The three of cups is an uplifting card. The answer to your question is a big yes! There is a likelihood of a former lover to come back to your life and your heart. People are coming together with tender hearts for a celebration. The three of cups is also a good omen on your career; there is an opportunity for a well-deserved job promotion.
Upright 3 of Cups Tarot Meaning – Yes or No?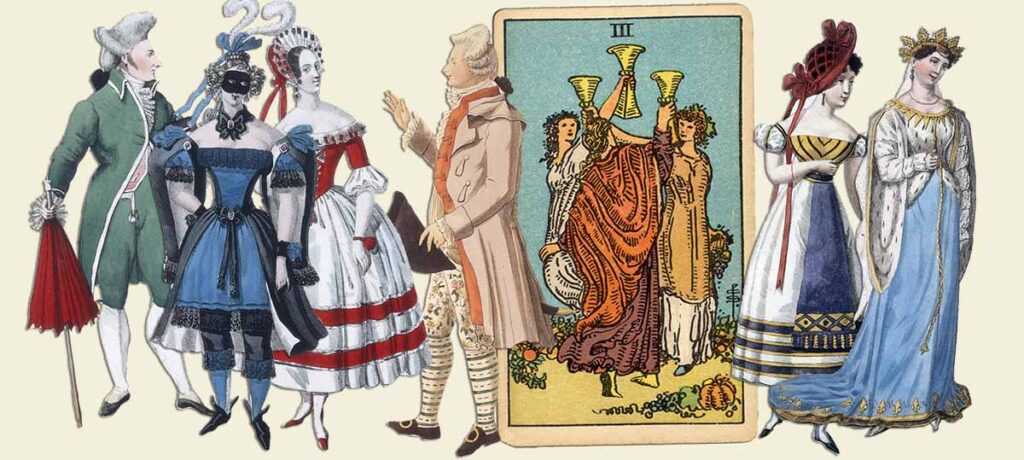 The 3 of Cups tarot card portrays three cheery women raising their cups in a manner of celebration. It seems they are dancing in a circle wearing festive gowns. This card signifies appreciation and respect towards the people that share your life with you. The three women seem to be standing in the middle of a meadow with fruits and vegetables. This perhaps means an increase in your wealth and wellness. This card can symbolize an emotional connection with your friends and family, it evokes you to permit yourself to be open to the support of others but also to be receptive to receiving help from the people that you trust. The 3 of Cups also symbolizes fulness, growth, and a feeling of prosperity in your life.
This card serves to encourage you to be conscious of the powerful group of people that you have in your life. They are there for you and you should recognize their potential to help you but also to value their presence and celebrate your individual accomplishments with them. Celebrations are the foremost representation of this card, which could be a consequence of a marriage, or birth as well as any family event. You should be in a position to celebrate all your hard work. If you have anything pending for a while, this might be the time that you will ultimately get to witness the good outcome.
3 of Cups reversed – Yes or No?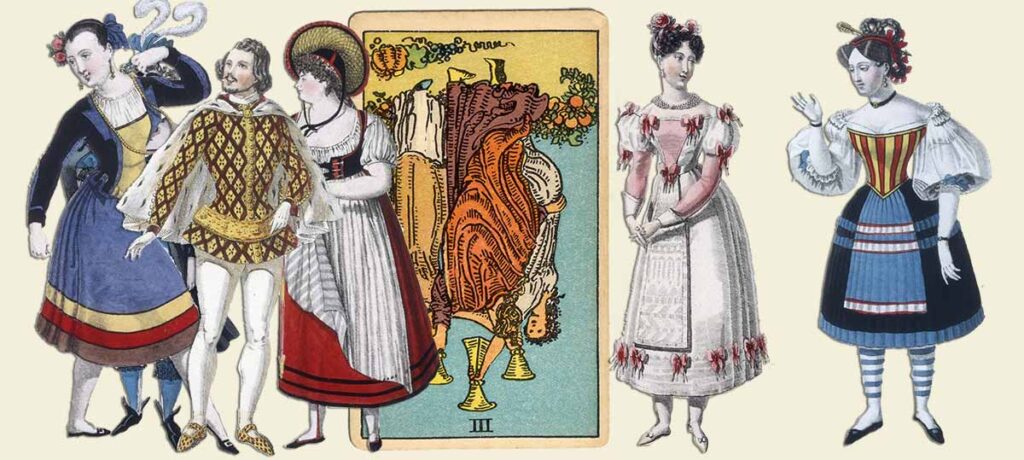 You should be cautious when encountering the reversed 3 of Cups. While this card represents wellness and calls for a celebration of your achievements when reversed the meaning is not as positive. It might be a warning that you exceeded your celebrations and overindulged yourself. It also can mean that you have overly expressed your love and gratification towards others which causes you to feel overwhelmed. When you see this card you should consider adjusting your awareness towards your existing attitudes and find a wholesome balance of your emotions.
3 of Cups meaning for Love – Yes or No?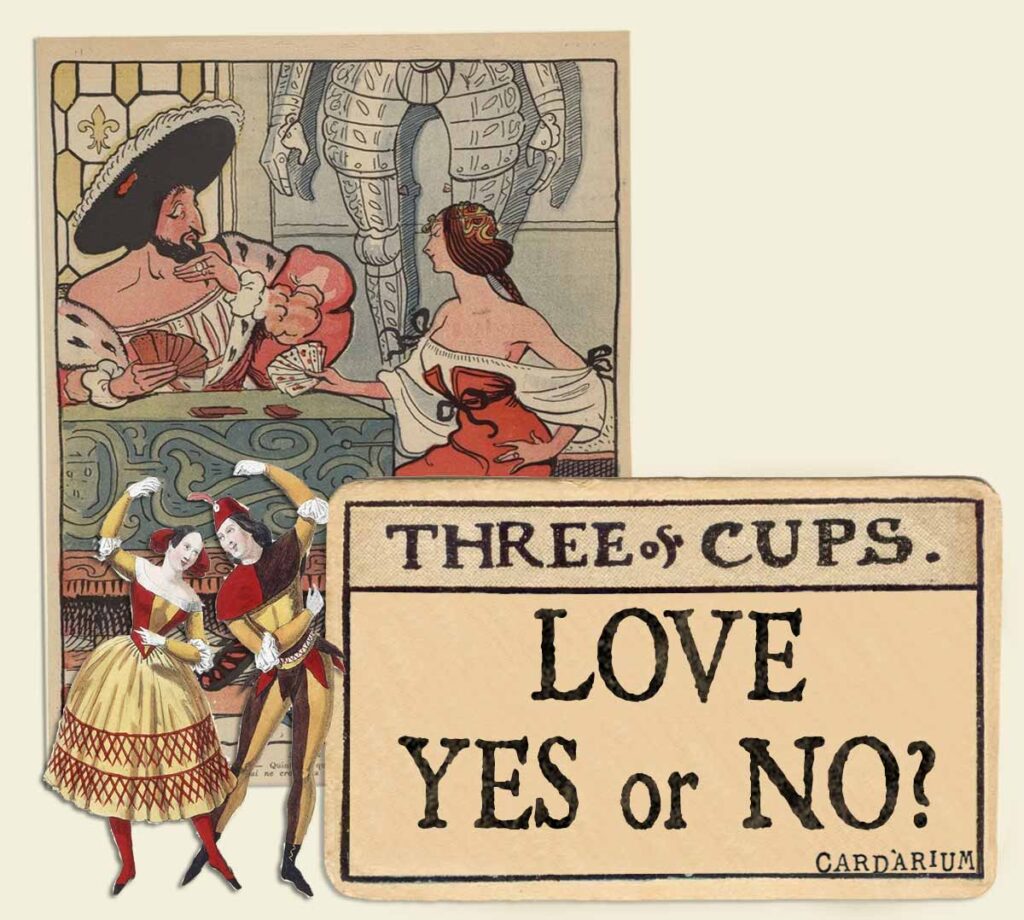 If you see this card then you should be opening yourself to the idea of embracing whatever is romantically coming your way. There is a magical force surrounding you right now. There is a good chance that you are about to embark on a highly passionate bond with someone that you love. Use your exceptional communication skills to display your love and empower yourself to strengthen more powerful bonds with the ones you truly love.
3 of Cups reversed meaning for Love – Yes or No?
Watch your back. When a reversed 3 of Cups card appears it means that you might be wandering towards an unsafe situation within your love life. This is the time that you may find yourself starting a short-lived relationship or even be reliving an old fling with an ex, although soon you may recognize why you are not in a relationship with that person any longer. So be careful in how deep you allow yourself to dive under those situations. If you are already in a relationship, someone may be trying to sabotage your relationship by raising some tales that might harm you. Be aware of third influences within your relationship.
3 of Cups as Advice Yes or No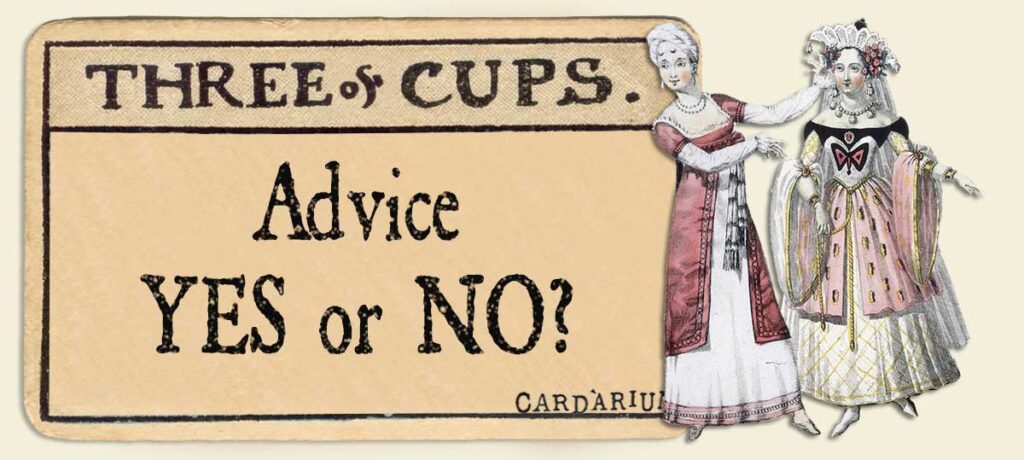 Whatever place you have found yourself inquiring if you should take that trail, then the answer waiting for you is mostly yes! The 5 of Cups is a sign that you should allow yourself to be guided by your own intuition to resolve any dilemmas that you might be facing right now. It also hints that the people that are a part of your life are there to support any decisions that you may take. So welcome new opportunities. Flourish your relationships and allow others to be a part of your support system along the way. This is a time to enjoy your accomplishments.
3 of Cups reversed as Advice Yes or No
This is a time to be unadventurous. So slow down your pace and look around you. Do not rush to any uncertain choices right now. Those decisions can lead you to misfortunes so this isn't the time to take major risks. If you are not in a great place right now, you should remind yourself of your own abilities and all the achievements that you have celebrated in the past. This isn't a representation of your life but it might represent a blockage. You should gather your priorities, values, as you keep moving ahead.
3 of Cups Yes or No Business Decision
Embrace new possibilities. The 5 of Cups implies a new business partnership heading towards you. This new partnership will perhaps involve someone that shares the same values and professional aims as you, so you are unquestionably embarking on a very prosperous path. If you are already on a business partnership then you should contemplate celebrating your career successes and look up to an even brighter future.
3 of Cups Yes or No Career and Job offer
There is a great likelihood of an increment in your income, which might be directly related to new business possibilities. You should follow your instincts and enable yourself to extend your chances for victory. Again recognize that you have people nearby that can support you. Reach out for help if you need it.
3 of Cups Yes or No Cheating
The current bond that you have built upon until now is powerful and reliable, there are no resembles of deception in this card. On the contrary a deeper connection between you and your lover is a probability. You should nurture your relationship, you need to open up to the likelihood that you are in a happy place and you should allow yourself to believe in the people that are part of your life.
3 of Cups Yes or No Break-up or Divorce
There are no suggestions for the ending of a relationship with this card. This card foresees the quite opposite of a divorce or breakup. There might be a bigger commitment emerging very soon. The 3 of Cups indicates prosperity within relationships, so it's clearly excellent news for you and your other half. Don't miss an opportunity to show how much you love them and appreciate their presence in your life.
3 of Cups Yes or No Marriage
A more significant commitment in your relationship appears to be very likely at this frame in time, either as a marriage or an engagement. You are on the course of a fortunate relationship and this might symbolize a bigger devotion from both of you. A new and stronger beginning will most likely be in your imminent future. There is certainly something expected to be celebrated very soon.
3 of Cups Yes or No Pregnancy
A ceremony of a new life in your family might be a real possibility. It may suggest that you or someone that you love is expecting and a family celebration is occurring very soon.
3 of Cups Yes or No interpretation in a practical Tarot reading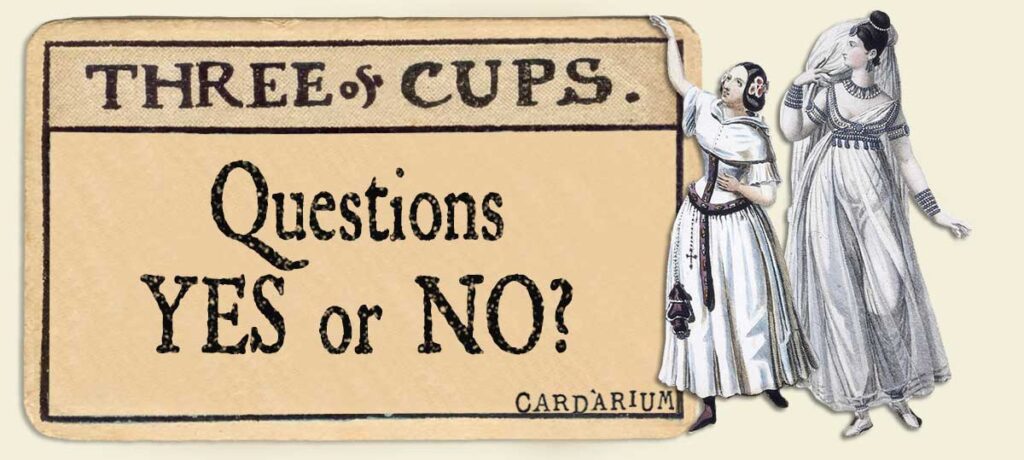 "I have been feeling a little lost lately, I have taken upon a new path in my career and I'm feeling a little overwhelmed. Am I on the right path?"
You are most likely on the right path. You have success hovering over you at this moment and you should allow yourself to fully devote the best of your abilities to this new chapter of your life. The ceremonial meaning of this card suggests success in your life. Embrace the change and allow others to give you a helping hand on those moments that you feel a little overworked. You have a great support system surrounding you.
"I love him and I think I have never felt this way before, is it possible that is he my soulmate?"
It seems that you are in the right relationship, your common interests are probably what lead you both to each other's lives. You should let go of any unhappy experiences in your past life and just be thankful and open to embracing this new experience of your life. Cherish your current relationships and allow yourself to be happy.
"We have been really close, but we have never dated or talked about dating each other. I think he likes me, will he confess his feelings? Or should I take the first step?"
The 3 of Cups symbolizes prosperous moments in your life. Your love life is also engulfed in these thriving vibes. So you should follow your instincts and do what your heart is telling you right now. This is a very good stage to begin building even stronger bonds. So open up to those feelings and be ready to cherish your realizations.
"I have been extremely unlucky in my love life. Is there anything wrong with me? Why am I single?"
There is nothing wrong with you. Life leads you to unhappy places sometimes but you are now in the right spot to receive the love, achievements, and success that you have worked so hard for. A new and strong love bond might be on the very short horizon for you. Forget the past, and live in the present. Allow yourself to be ready for love.
"I think we have approached that stage where we both know that we are ready to take another step in our relationship. Will he propose soon?"
There are clear celebrations coming your way. A more prominent bond linking you and the person that you are currently in a relationship with is a very high possibility. A possible engagement might be arriving earlier than you thought. Just be sure to confirm that you are willing to accept it. Emphasize your feelings without pushing too much, but perhaps you should let him know how much he means to you.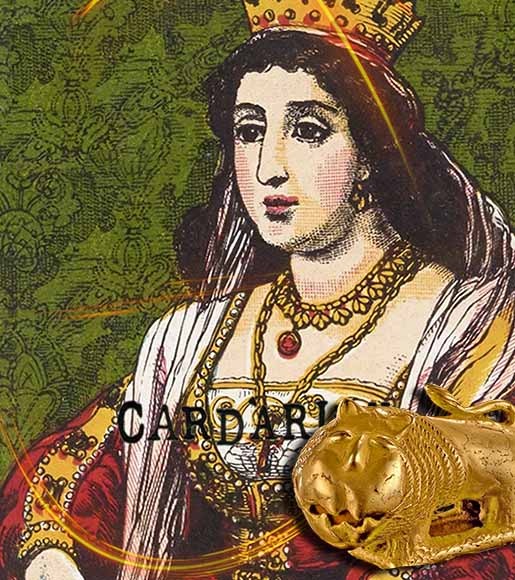 Her Majesty Tarot Queen
I read the cards with my eyes closed and my heart open. I don't sugarcoat the truth. After all, I'm not only known for my royal blood but also for my royal honesty.