Three Free Fortunes Card Reading
Love? Money? Success in career? What's in your cards today?
Three cards – three insights into your fortune are waiting for you below.
How to read the cards? Follow these steps:
Turn each of the three cards below in order to see what's in your cards today.
Click the opened cards one more time to get a detailed interpretation of their meaning.
If you'd like to get another reading – just shuffle the cards and try again.
Take a minute to close your eyes and calm down. Focus your spirit. Be firm – don't complain, don't ask, don't beg – COMMAND the cards by the unwavering force of your spirit to give you an OMEN and an ANSWER.
Then click on the cards to turn them. Don't rush like a silly child to turn every card immediately. Proceed slowly, showing respect for yourself and for your power to control your destiny.
Fortune telling cards are like dogs. They can smell weakness and fear a mile away. Make sure that you impose your will on them, or else they will impose their will on you.
You have to remember that cards with their back side up are silent – they don't mean and don't say anything. But if you turn them – their effect can't be undone. So, if your intuition says it is not a good day for you – don't draw them. Just leave them be and come another day.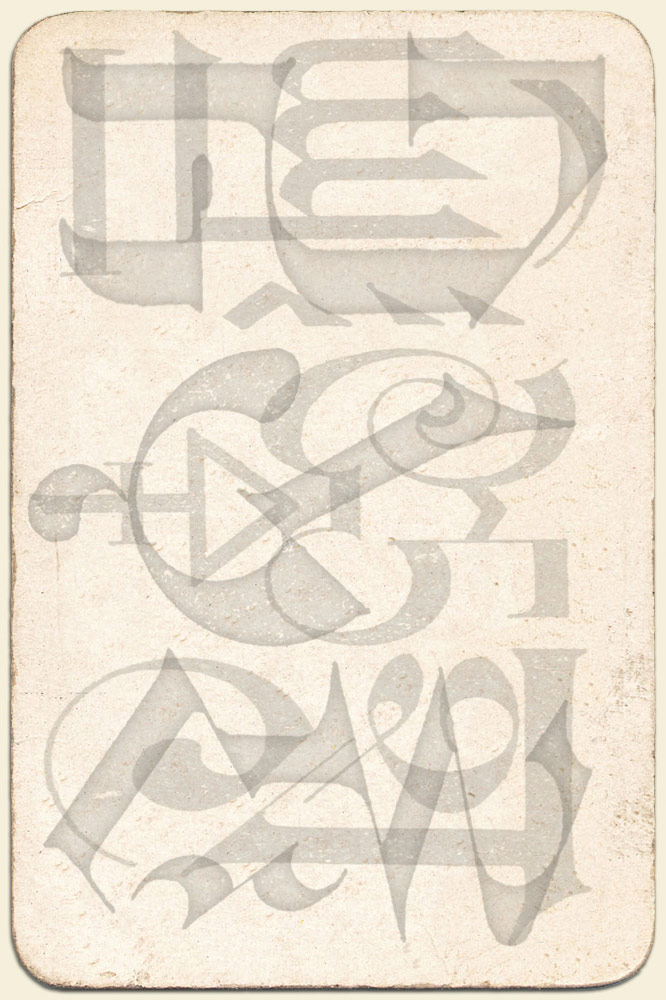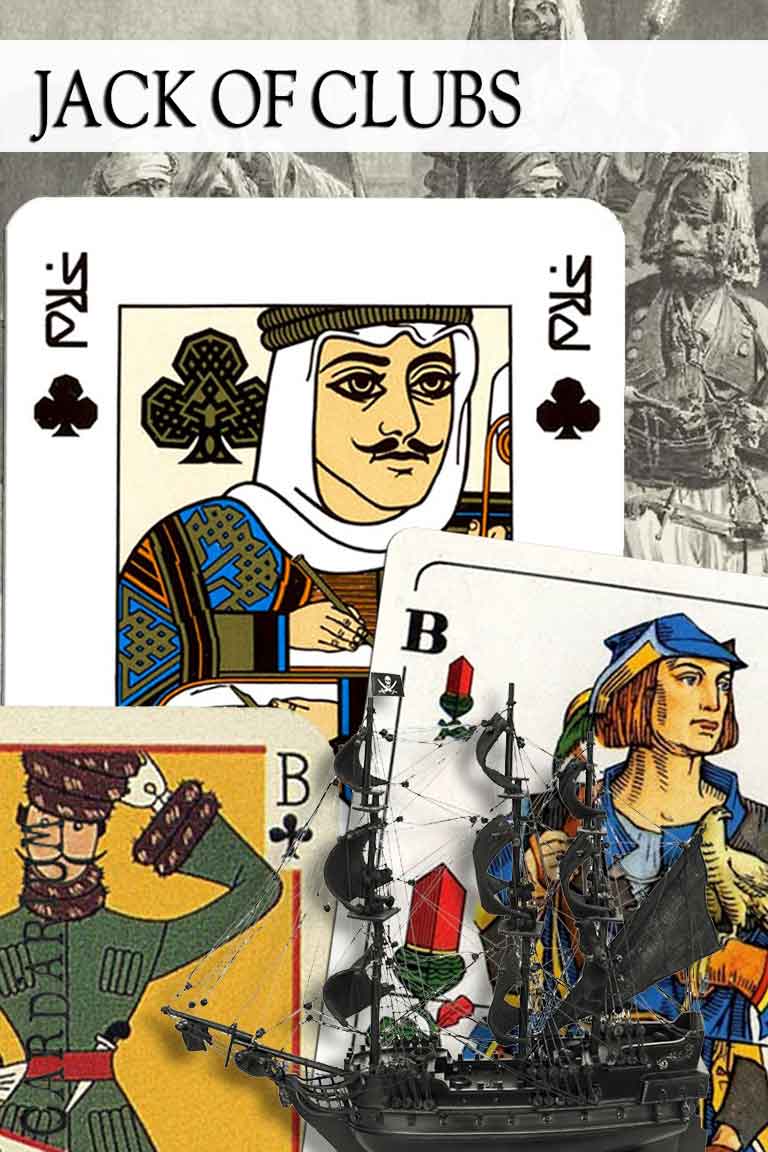 JACK OF CLUBS INTERPRETATION
Happy boyfriend, Sincere lover, Slightly dangerous flatterer, Friendly, enterprising, skillful, brave young man; that is the meaning of this card taken in isolation.
This Jack or, better to say – Valet – has many particular meanings that are more or less favourable.
Isolated, pulled from a deck by a young girl or woman, he represents her fiancé, a dark, honest and good young man; but if he is between two spades, his family and friends will oppose the marriage. It will take place anyway, despite all the resistance.
For a young man, he represents his more successful and wealthier rival; but between two heart cards, this rival will be ousted.
For a divorced person or a widower, it's the announcement of his/her next marriage.
Finally, by any other person, this card ensures complete success in everything they would do.
Having on the right a
Spade ♠: You will meet a young man who has just become rich or famous. This is your chance. Don't waste it.
Heart ♥: An OK, but not great boyfriend or girlfriend. You can do better in love. However, if he or she is generous in bed and thinks of you, this omen might be misleading. Count all the heart cards that you draw. If you get many – maybe the other cards are trying to tell you something better about your Jack of clubs.
Diamond ♦: Wrong idea. Whatever you are stubbornly convinced and arguing about – take a second look.
Club ♣: Difficulties. – Delay of a marriage due to insufficient wealth or uncertain career.
Having on the left a
Spade ♠: New acquaintance of a pretty brown (brunet) boy, but very silly, although believing himself to be spiritual. Call spade a spade, and call stupid a stupid.
Heart ♥: Discreet love. – Beneficial friend.
Diamond ♦: Visit of a "bon vivant" friend, who will bring you joy and happiness.
Club ♣: Complete success in any business decision that you are agonising about.
EXCEPTIONS.
Between two Spades: Delayed marriage which will only take place after meeting and gaining the favour of the parents.
Between two Hearts: Rivalry that will not be fatal, but very very damaging. If you know who your rival is – strike first.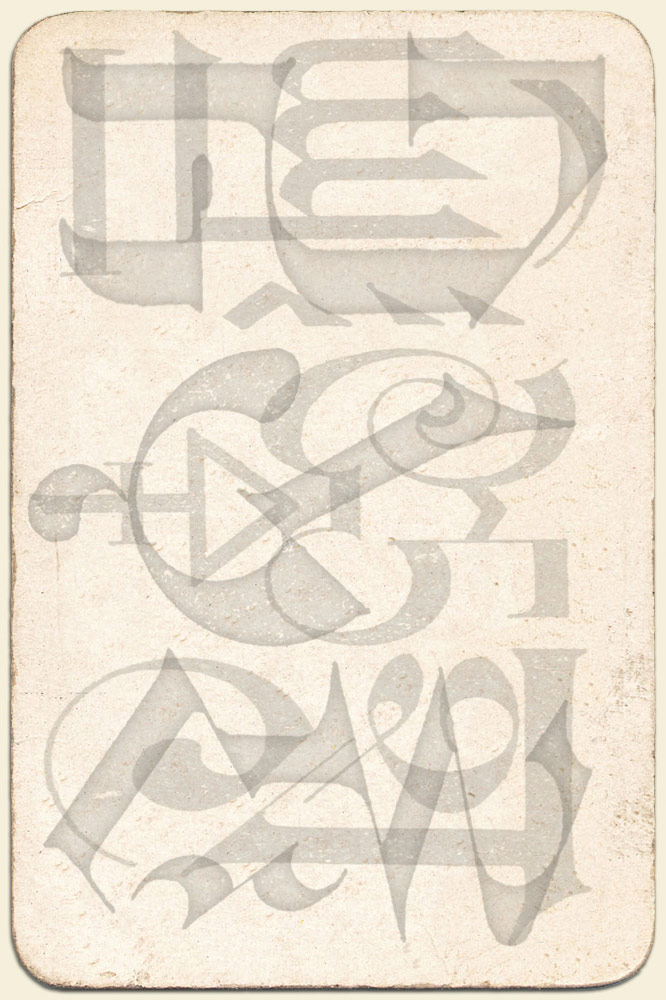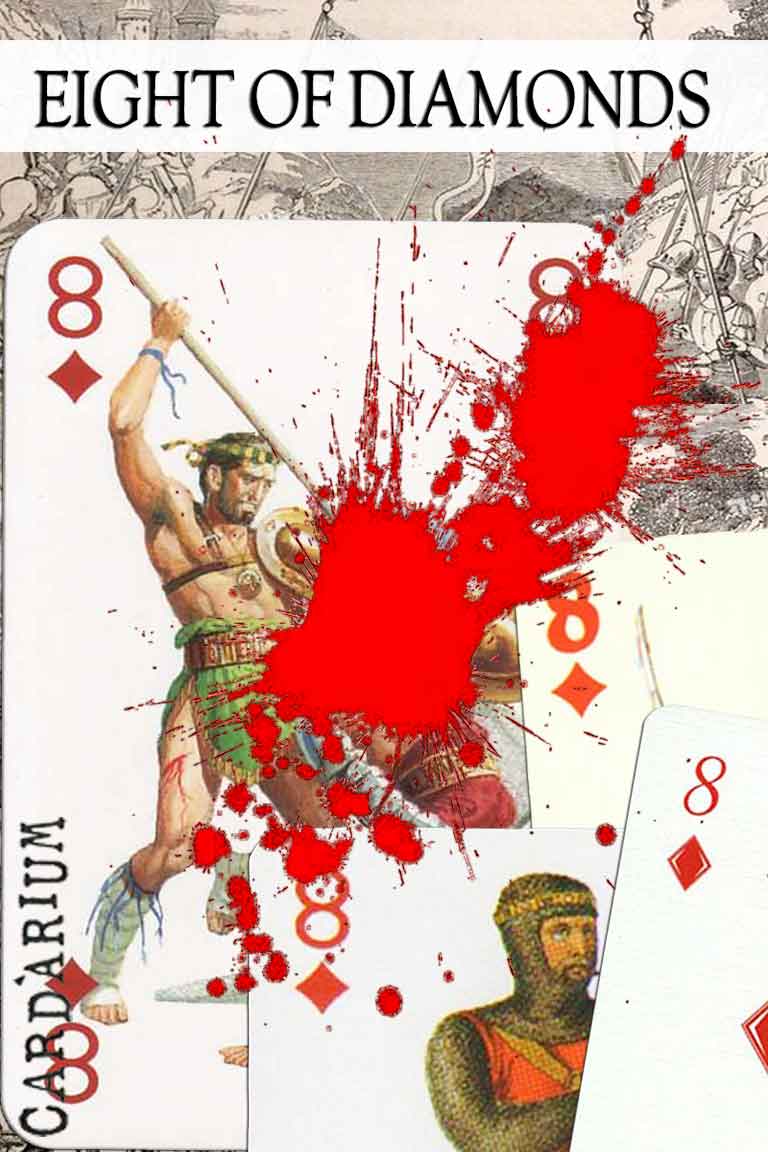 8 OF DIAMONDS INTERPRETATION
Bad words, actions, travel.
The Eight of Diamonds having to right, a
Spade ♠: Distant travel without any profit.
Heart ♥: A journey full of pleasure.
Diamond ♦: Efforts without success.
Club ♣: Loss of money.
Having on the left a
Spade ♠: A friend's slander.
Heart ♥: Wedding trip or trip to the city to attend a wedding.
Diamond ♦: Efforts without success.
Club ♣: Money found.
EXCEPTIONS.
Between two cards of the same value: Travel postponed.
Between two Hearts: Husband and wife will make steps to become closer.
Between two Clubs: Travel for very small inheritance or business gain.
Between two spades or two low cards of Diamonds: unsuccessful efforts.
Between the Queen of Clubs and the King of Spades: Disunion.
Between two Diamond figures; The card is null; it does not speak.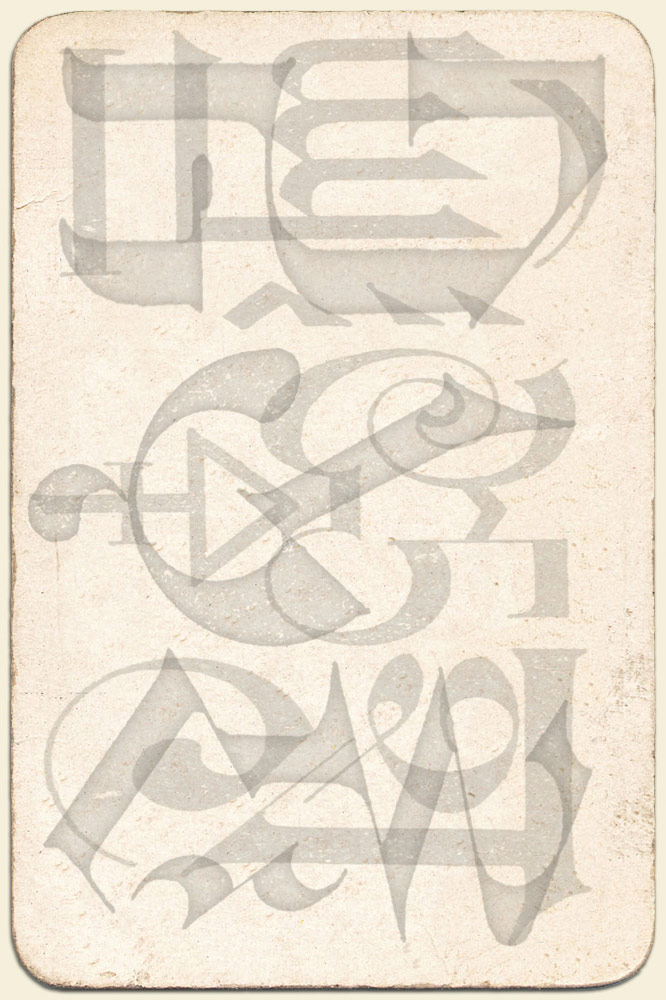 8 OF SPADES INTERPRETATION
Card of illness, disease and addiction. Not as bad as the Nine of Spades, but this Eight is a very bad card.
Crying, discord, annoyance, heartache, missed love, obstacles, infections; this card is fertile with awful predictions.
The Eight of Spades, having on the right a
Spade ♠: Sickness after an accident outside.
Heart ♥: Illness of a friend.
Diamond ♦: Dubious contracts. – Discord with business partners.
Club ♣: Sickness for the consultant, not dangerous and of short duration.
Having on the left a
Spade ♠: Crying and tears. – Domestic sorrows. Obstacles to anything you want.
Heart ♥: Missed love or marriage. Somebody else married the man or the woman that was your perfect fit and the opportunity is gone forever. – Friction with a friend or relative.
Diamond ♦: Sadness. – Complicated birth.
Club ♣: Monetary losses. – Misery.
EXCEPTIONS.
Placed between two Spades: Certain, short and not dangerous disease.
Near the Nine of Spades: Violent death of a friend. – Madness. – The other card touching the Eight of Spades is null; it does not speak
Between any two face cards: Adversity.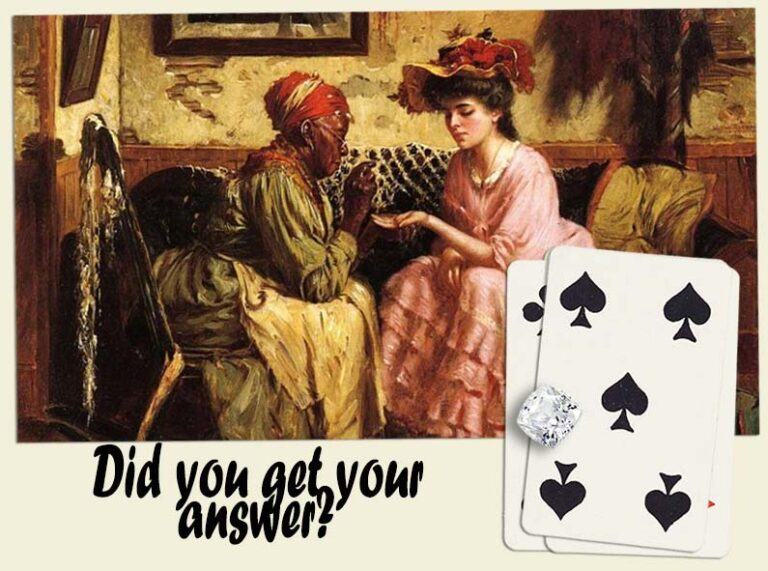 Thank you! You know, we are a bit nuts about card readings. Let us know about your experience! Hit or miss? Anything interesting?
What's next? Cardarium visitors also liked these card readings: