Tarot Love Reading - 5 Insights into Your Present Love State of Affairs
Always remember the Number One and the Most Important Rule of all: in Love and in War there are no rules. 
You will find 5 Tarot cards below. Turn them and see what you get. 
Then, take a deep breath and let your heart and intuition decide. It is that simple.
The 5-card Tarot spread is based on the American (Rider-Waite) Tarot. The cards are from the original deck published in 1910 – no more, nor less – 110 years old.
Oh, so many hands have shuffled those cards! Oh, so many souls have searched for meaning in their layouts! You are not alone looking for love in their arcane universe. 
Step I. Turn the cards in order to see your love omens for today.  
Step II. You will notice a small message card attached to every tarot card. These messages are called "specific arcanum". They will help you interpret the meanings of the base tarot cards.
Step III. Click the cards for the second time to get a classic American (Rider-Waite) Tarot explanation of their meanings. 
Step IV. Finally – concentrate for a minute. Look at the cards, then look into your soul, look into the depths of your thoughts and mental connections.  That's where the real magic of the tarot reading hides. And that's where you will find the best insights.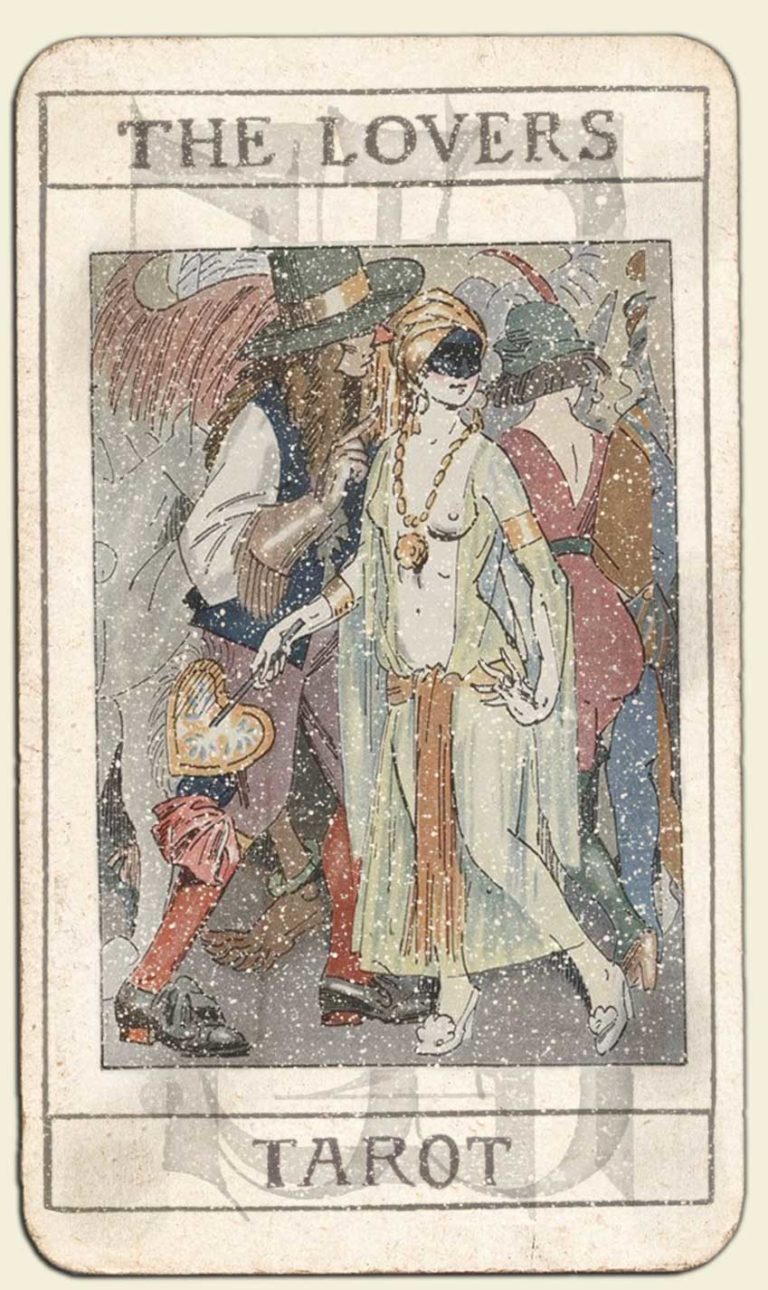 QUEEN OF WANDS INTERPRETATION
Classic meanings
: A dark woman, country-woman, friendly, chaste, loving, honorable. If the card beside her signifies a man, she is well disposed towards him, if a woman, she is interested in the Querent. Also, love of money, or a certain success in business.
The meaning for love is clarified by specific arcanum: His hand pressed against her bare palm. The touch was a whisper in a language she didn't speak very well.
Original description of the card by the author – Arthur Edward Waite: The Wands throughout this suit are always in leaf, as it is a suit of life and animation. Emotionally and otherwise, the Queen's personality corresponds to that of the King, but is more magnetic.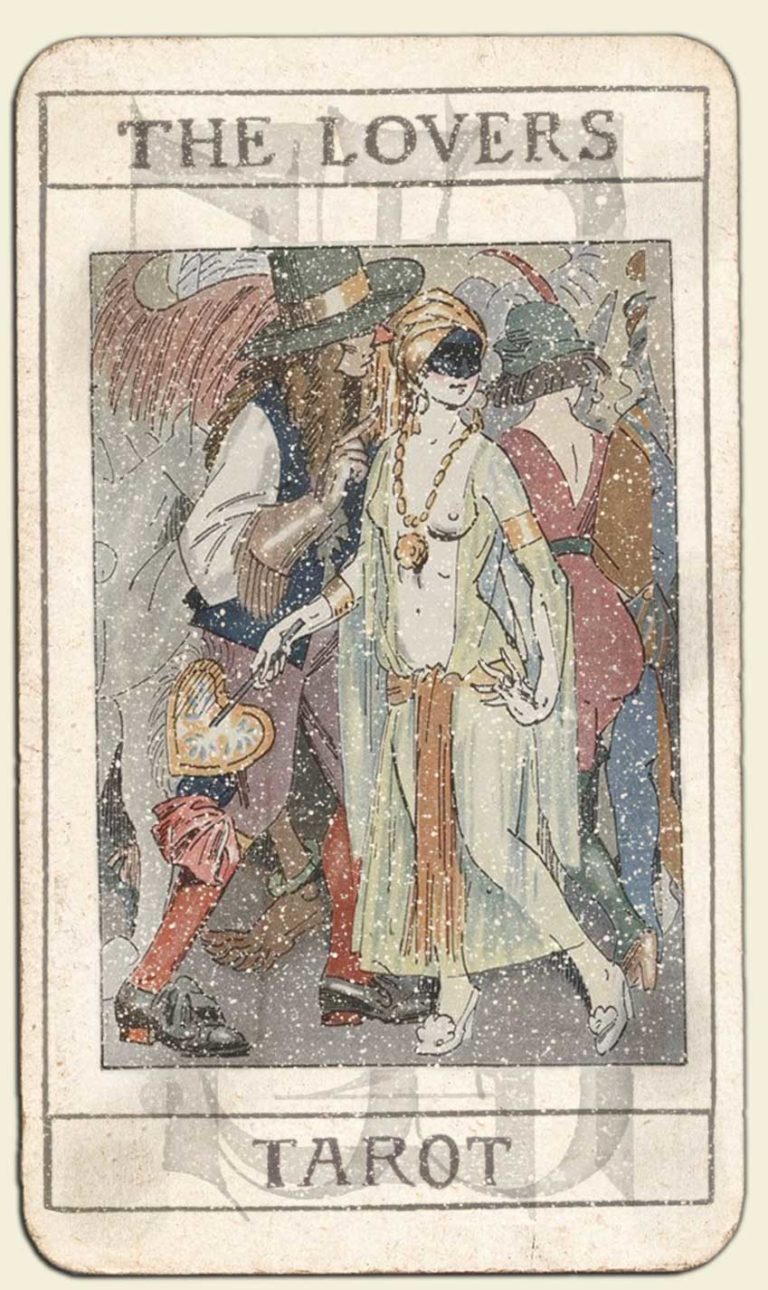 KING OF CUPS INTERPRETATION
Classic meanings
: Fair man, man of business, law, or divinity, responsible, disposed to oblige the Querent, also equity, art and science, including those who profess science, law and art, creative intelligence.
In addition, it means for love: I like the way you kiss – a couple of test kisses, then a huge kiss.
Original description of the card by the author – Arthur Edward Waite: He holds a short scepter in his left hand and a great cup in his right, his throne is set upon the sea, on one side a ship is riding and on the other a dolphin is leaping. The implicit is that the Sign of the Cup naturally refers to water, which appears in all the court cards.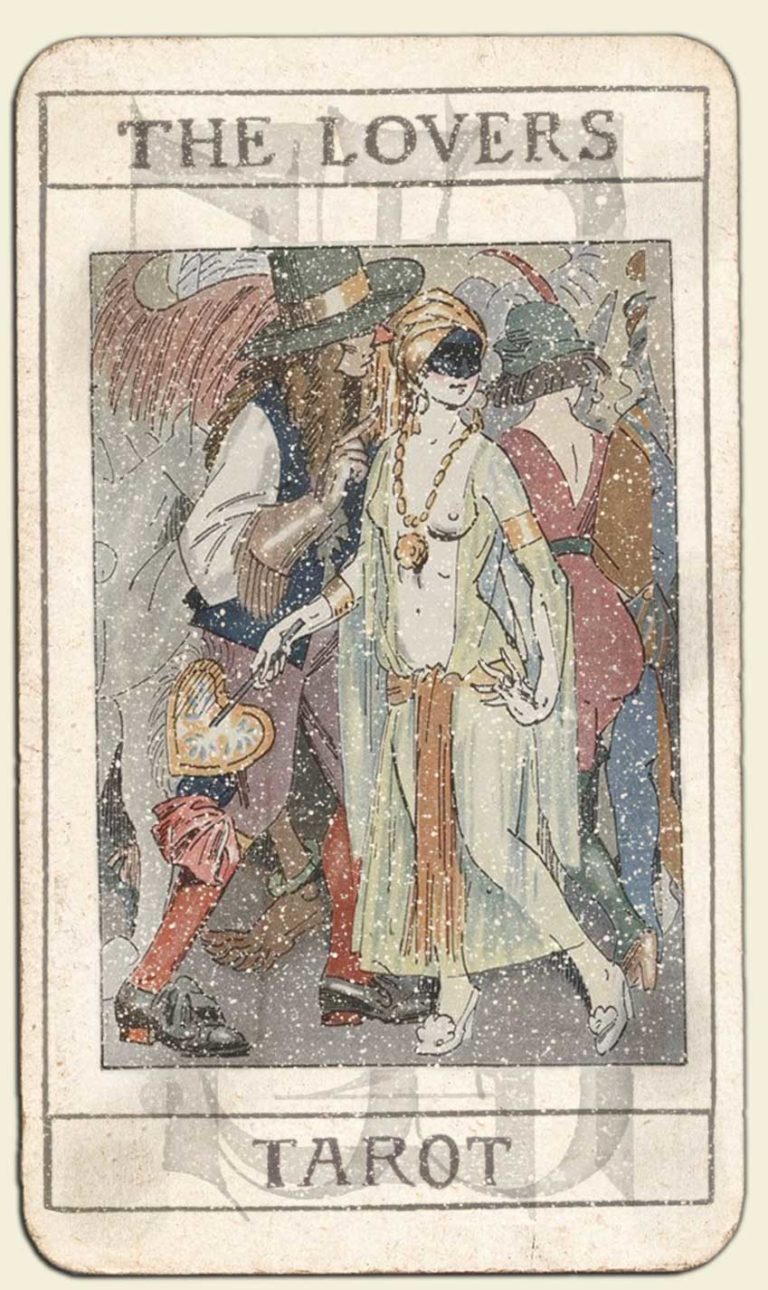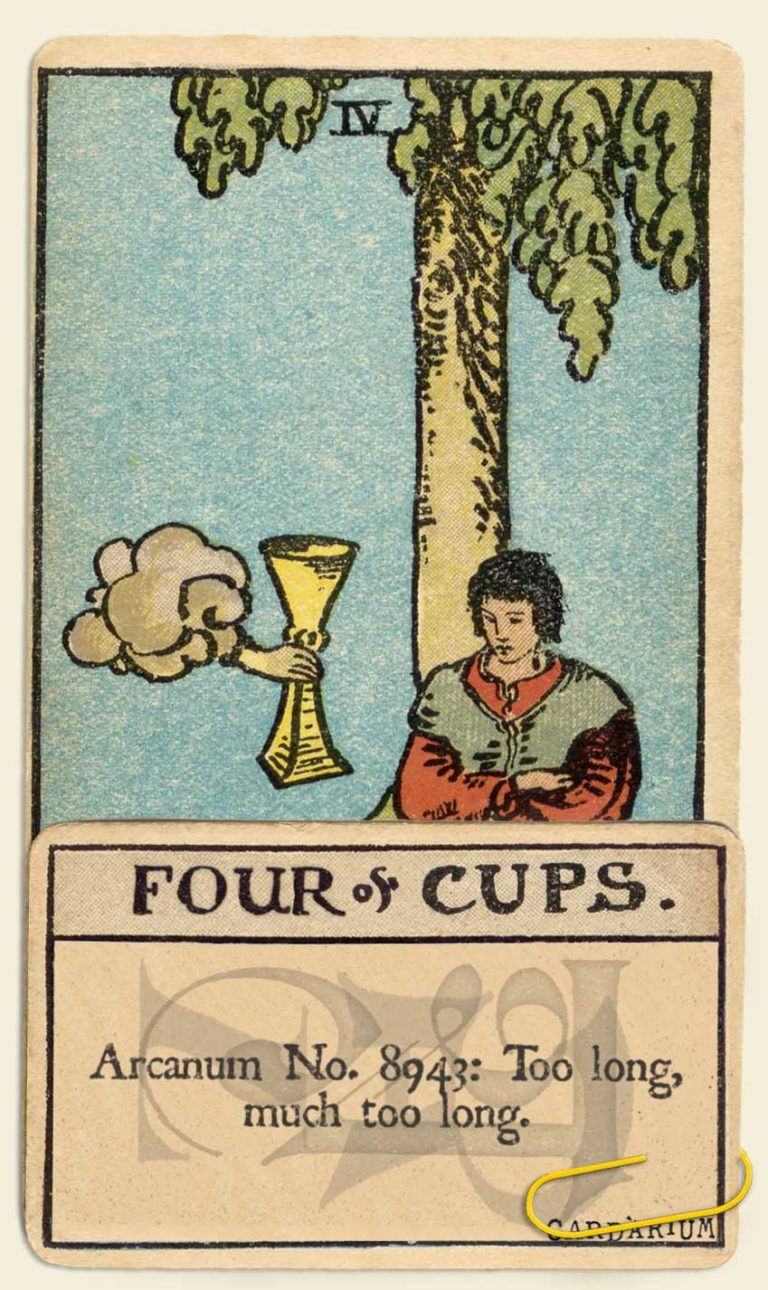 4 OF CUPS INTERPRETATION
Classic meanings
: Weariness, disgust, aversion, imaginary vexations, as if the wine of this world had caused satiety only, another wine, as if a fairy gift, is now offered the wastrel, but he sees no consolation therein. This is also a card of blended pleasure.
Additional omen for love: Too long, much too long.
Original description of the card by the author – Arthur Edward Waite: A young man is seated under a tree and contemplates three cups set on the grass before him, an arm issuing from a cloud offers him another cup. His expression notwithstanding is one of discontent with his environment.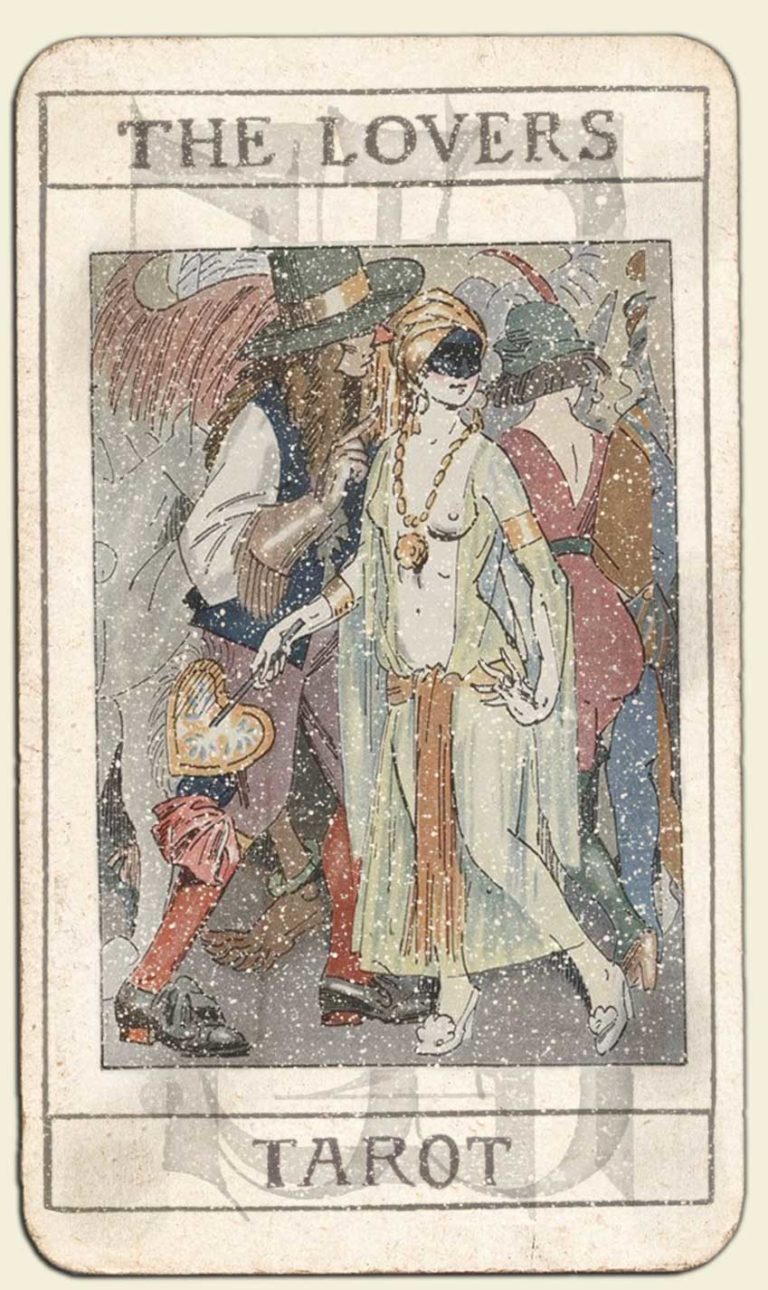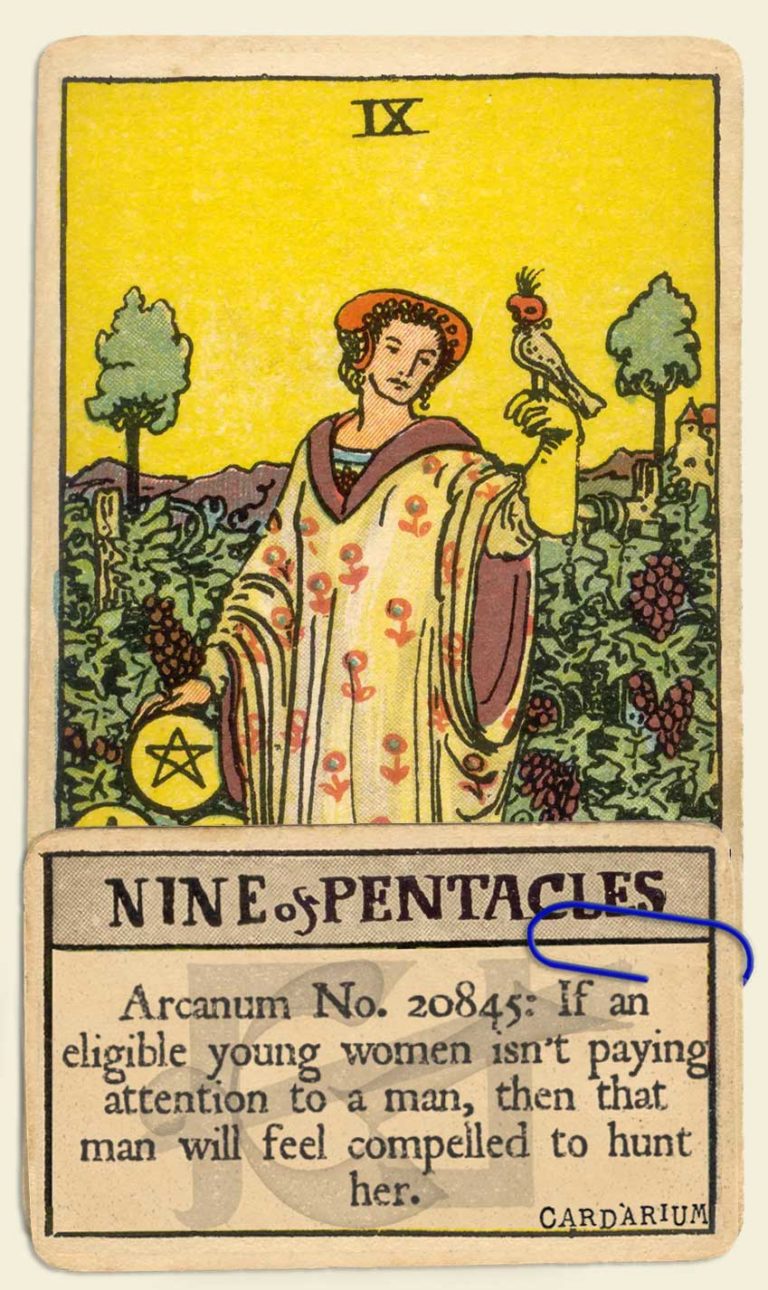 9 OF PENTACLES INTERPRETATION
Classic meanings
: Prudence, safety, success, accomplishment, certitude, discernment.
Concerning love, this card is clarified by: If an eligible young women isn't paying attention to a man, then that man will feel compelled to hunt her.
Original description of the card by the author – Arthur Edward Waite: A woman, with a bird upon her wrist, stands amidst a great abundance of grape-vines in the garden of a manorial house. It is a wide domain, suggesting plenty in all things. Possibly it is her own possession and testifies to material well-being.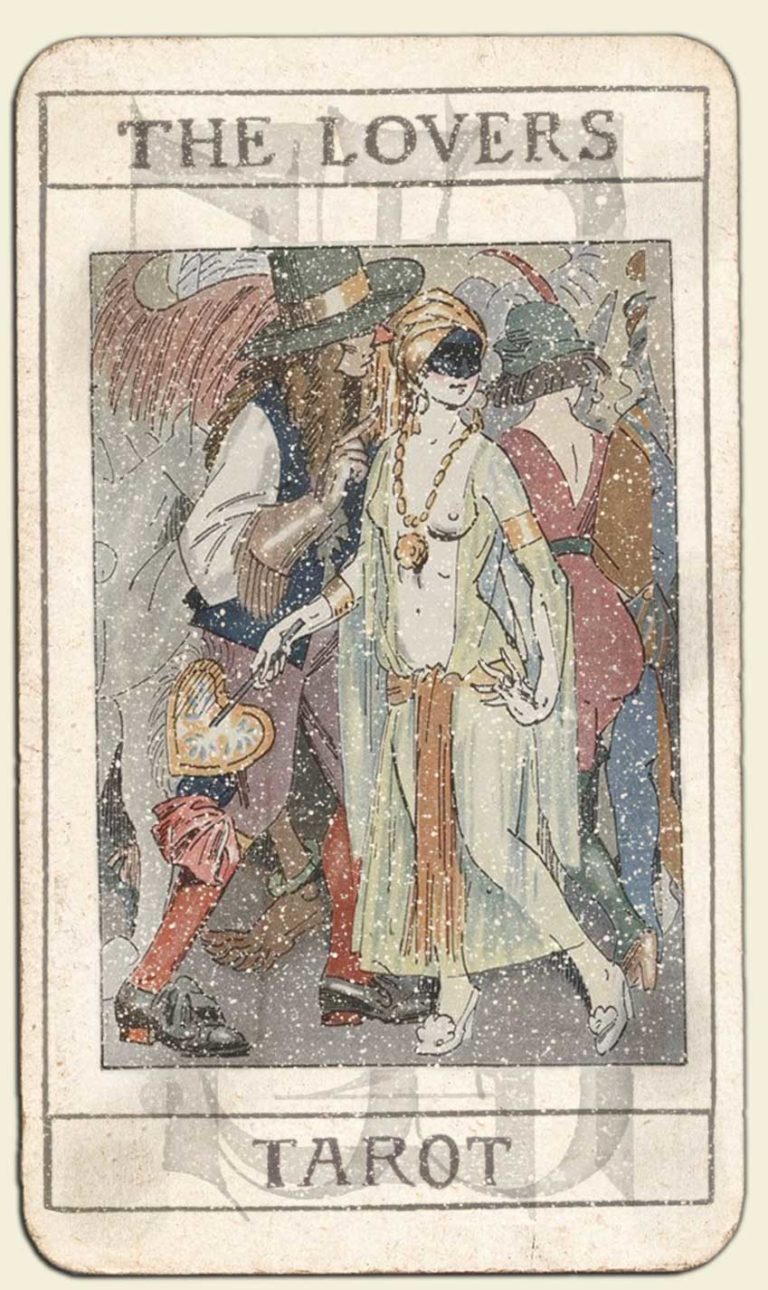 TEMPERANCE INTERPRETATION
Classic meanings
: Economy, moderation, frugality, management, accommodation.
Additional omen for love: Isn't that what true romance is supposed to be about? Finding the person who's your soul mate?
Original description of the card by the author – Arthur Edward Waite: A winged angel, with the sign of the sun upon his forehead and on his breast the square and triangle of the septenary. I speak of him in the masculine sense, but the figure is neither male nor female. It is held to be pouring the essences of life from chalice to chalice. It has one foot upon the earth and one upon waters, thus illustrating the nature of the essences. A direct path goes up to certain heights on the verge of the horizon, and above there is a great light, through which a crown is seen vaguely. Hereof is some part of the Secret of Eternal Life, as it is possible to man in his incarnation. All the conventional emblems are renounced herein.
So also are the conventional meanings, which refer to changes in the seasons, perpetual movement of life, and even the combination of ideas. It is, moreover, untrue to say that the figure symbolizes the genius of the sun, though it is the analogy of solar light, realized in the third part of our human triplicity. It is called Temperance, fantastically, because, when the rule of it obtains in our consciousness, it tempers, combines and harmonizes the psychic and material natures. Under that rule we know in our rational part something of whence we came and whither we are going.
This is it for today, traveler.
May the Gods of arcane grant you all your wishes.
May the Love divine be your daily companion.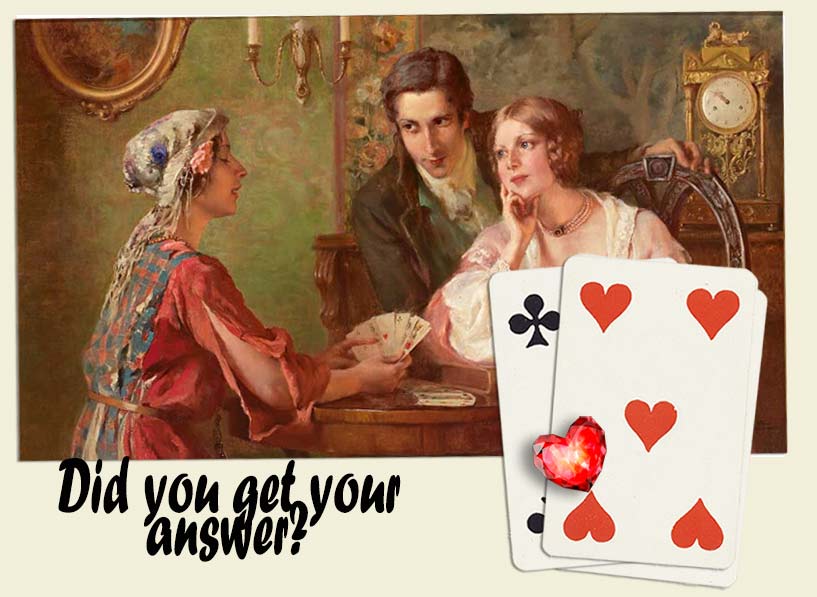 Thank you! You know, we are a bit nuts about card readings. Let us know about your experience! Hit or miss? Anything interesting?
What's next? Cardarium visitors also liked these card readings: