"So, you'd like to get a card reading?", said the fortune teller.
"Beware – cartomancy is powerful. You should be careful what you wish for."
Today's card reading is the Three Free Fortunes. It is based on the traditional French cartomancy. It is good for people who would like to get a quick, but serious reading of the day. 
ORACLE OF THE UNSTABLE ARCANA
If you are looking for more personal and intimate cartomancy experience – try Spirits in My Head  oracle. Be careful though, because the unstable arcana cards might be nasty and sometimes gang up on you. They are like human beings – some are nice and friendly, some are jealous and mean. Some are outright evil. That's how those cards are, because that's how life is.
Every day is a new beginning of your journey through life. Your days are your treasures. Don't waste them.
If you hesitate which path to choose, ask the cards for an OMEN. Concentrate for a few seconds and turn the card below.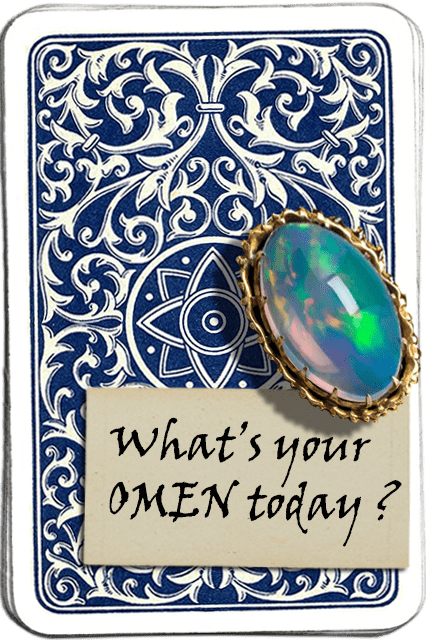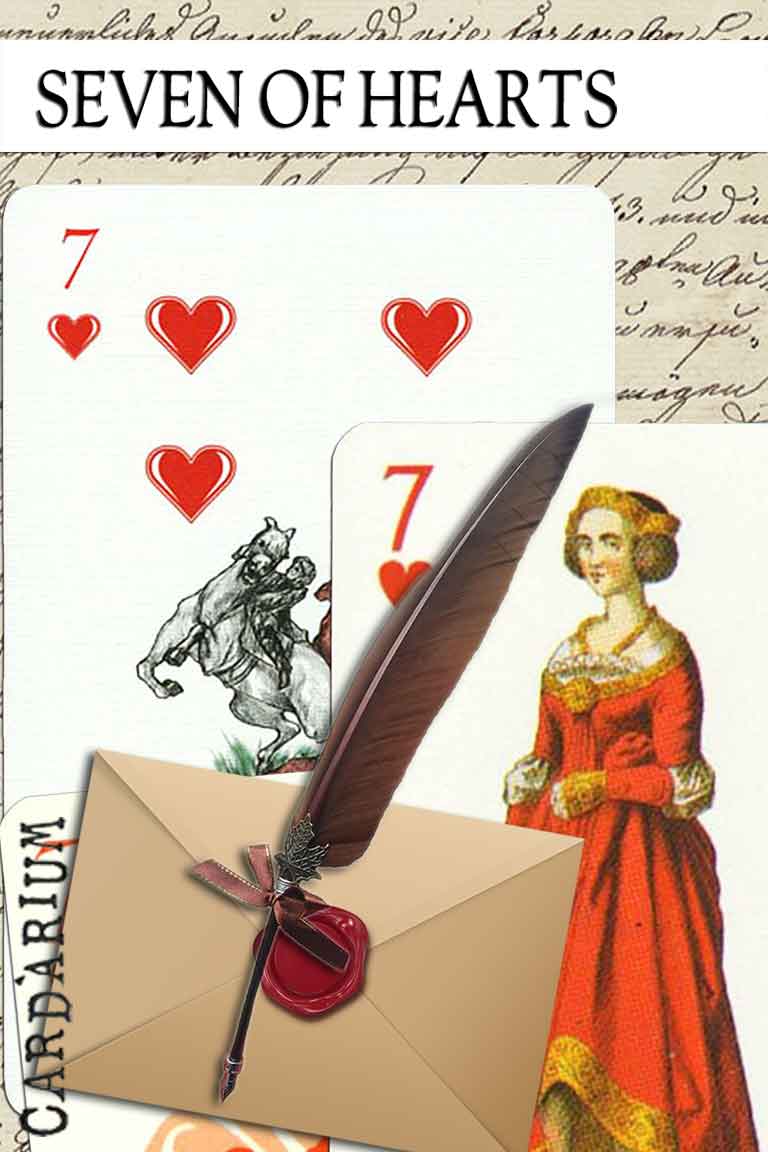 7 OF HEARTS INTERPRETATION
Considered isolated, this seven represents Thought.
Its entourage, whatever it is, is always a good omen. When it is a card that opens when the deck is cut, in any circumstance, it means: Little joy.
Sometimes it symbolizes an advantageous marriage.
Its meanings with other cards are: savings, peace of heart, order, honesty.
It assures a young man the love of a kind blonde;
To a young woman, this card announces that she will soon be in a happy relationship. Love is not out of reach.
For married people, it is the symbol of inner peace, of perfect harmony.
It is only to divorced persons and widowers that this card is unfavourable, announcing only trouble and rivalry.
Therefore, divorced and widowed must consider the Seven of Hearts only at its face augury and ignore the meaning of the surroundings of this card.
Having on the right a
Spade ♠: A little trouble about a relationship.
Heart ♥: Perfect happiness. – Happy and upcoming relationship or marriage.
Diamond ♦: A small delay for everything you expect; but success is guaranteed.
Club ♣: Everything you want will happen.
Having on the left a
Spade ♠: Rivalry. – Boredom.
Heart ♥: Love. – Certain marriage. – Prosperity.
Diamond ♦: You will have a long journey that will bring you joy and profits.
Club ♣: You will overcome a difficulty with ease.
EXCEPTIONS.
Between two cards of the same value: Gift.
Between two Spades: Rivalry.
Between two Kings or two Jacks; Support from friends.