"So, you'd like to get a card reading?", said the fortune teller.
"I suppose every great adventure has to start somewhere. You might think it is difficult, but it is not. Just turn one card, and then it will all begin. 
Be brave, but beware – cartomancy is powerful. You should be careful what you wish for."
Today's card reading is the Three Free Fortunes. It is based on the traditional French cartomancy. It is good for people who would like to get a quick, but serious reading of the day. 
A day without love is a year of emptiness… Check out your current standing with a Free Tarot Love Reading. It is good for people who appreciate the classic Rider Tarot presented in an accessible way. 
ORACLE OF THE UNSTABLE ARCANA
If you are looking for more personal and intimate cartomancy experience – try Spirits in My Head  oracle. Be careful though, because the unstable arcana cards might be nasty and sometimes gang up on you. They are like human beings – some are nice and friendly, some are jealous and mean. Some are outright evil. That's how those cards are, because that's how life is.
Every day is a new beginning of your journey through life. Your days are your treasures. Don't waste them.
If you hesitate which path to choose, ask the cards for an OMEN. Concentrate for a few seconds and turn the card below.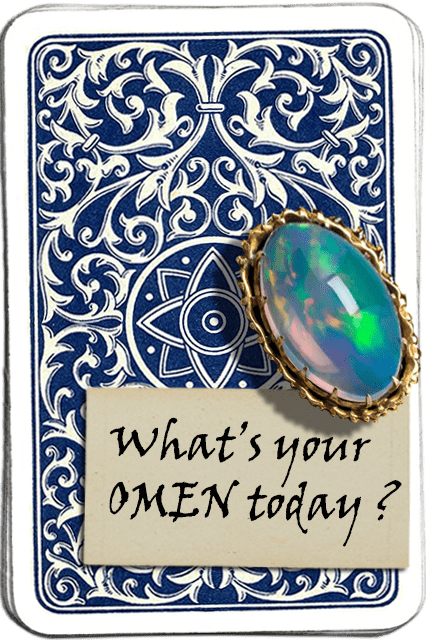 KING OF CLUBS INTERPRETATION
This card represents a devoted dark (brunet) man, who loves to be of service; or a loyal and kind man in financial matters.
Driven by good feelings, this man is, like the King of hearts, a friend, a protector.
He is also called the King of Money because, since the Club is the emblem of money (coin, in the Egyptian Tarot), he presides over our fortune; and since this King is a very favourable card, he is an excellent omen for the consultant.
Taken in isolation by a single person or a widower, it means: your rival more fortunate than you;
By a young woman: A man who is interested in you will be a serious man, rich and full of good qualities. Whatever he is now, he will be much better in the future.
By a child: Tutor.
By any other person: Protector, caretaker, patron.
This King having on the right a
Spade ♠: Small obstacles to the accomplishment of your projects. – A rich man will help you, and thus ensure the success you desire.
Heart ♥: Fortune. – Extraordinary luck. – Perfect joy.
Diamond ♦: You will receive a sum of money in a letter.
Club ♣: Great benefits. – Certainty of abundance.
Having on the left a
Spade ♠: Your patron and protector is tormented because of you. – However, his care is guaranteed.
Heart ♥: Serious suitor. – Tutor, – Protector. – Sincerely friendly.
Diamond ♦: Travel to the countryside.
Club ♣: Advantageous proposal by a rich man.
EXCEPTIONS.
With the King of Spades: Business consultation; the other card touching the Club is not null because of this exception; it speaks and carries a lot of meaning, it must be interpreted according to its particular meaning.
Between Clubs: You must stop the consultation. Everything you want will certainly succeed.
Between two hearts, squares or spades; it must be interpreted in isolation, that is, without giving value to the two cards surrounding it. This isolated interpretation is amplified. Anything that was a vague omen becomes a strong omen.