Summary: Ace of cups represents new beginnings; this is a yes card – an excellent omen for a new romantic relationship and the start of new friendships. New and exciting work opportunities are on the rise, so be ready to explore your possibilities. Ace of cups also symbolizes fertility. Strong intuition. Feeling very creative.
The Ace of Cups is perhaps the most revealing card of the tarot. You have been struck by the purity and selflessness of its representations. It's a card that you will be happy to see during your tarot reading. Represent powerful and divine connections with the people and the world around you. This card is a yes. A very big, YES. Allow yourself to follow your inner voice.
Upright Ace of Cups – is it a Yes or No Tarot card?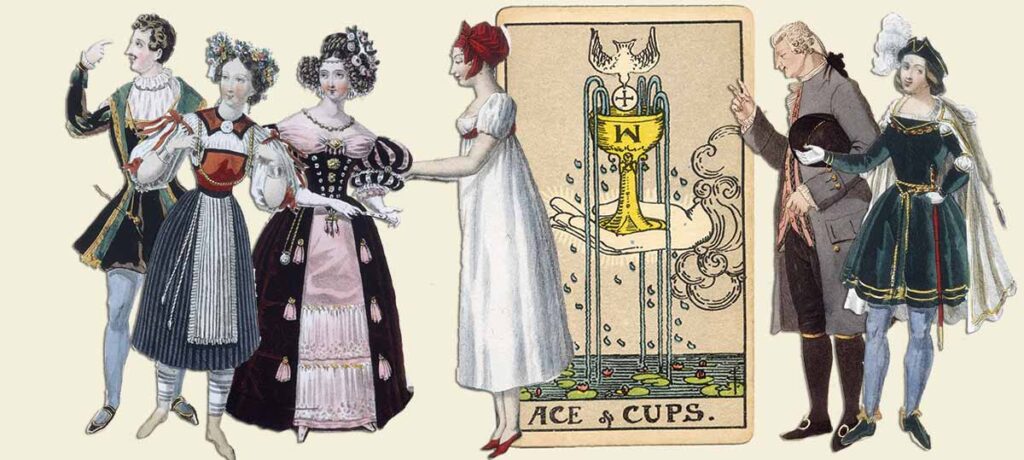 Looking at the Ace of Cups might not give you the entire meaning, but once you realize and really see the small details and links between every symbol in this card, you will be surprised by not only its power but how unique you indeed are, if you haven't realized it yet. When looking at this card, we see a dove, and doves represent hope, purity, and aspiration. It's also a divine sign, so think of it as big energy that is looking after you. Then we see the overflowing cup with five streams of water, imagine that you are the cup, and those five streams of water are your five senses: sight, hearing, touch, taste, and smell. The cup theoretically speaking, is overloading with the purest of your senses.
You are at your high peak, at your very best state of awareness towards the world. Under the cup, there is a hand that seems to come from within the clouds, that can be a symbol of your spiritual influence, a guide, a bigger force that is holding you and allowing you to share your high spiritual energy with the world. Under the cup, there is a pure sea covered with red lotus, as you might be aware, every living thing has an energy and red lotus represents selfless love, genuine kindness, love, and passion. Encountering the Ace of Cups during your reading is a sign that you are ready to manifest pure energy surrounding you and give it back to the ones around you.
You are a vessel, you represent hope, purity, kindness, and love. You are the purest energy embed within all your five senses and blessed with pure divine energy, and it's up to you to embrace all of its power and be selfless in sharing that with everyone that crosses paths with you.
Ace of Cups reversed – Yes or No?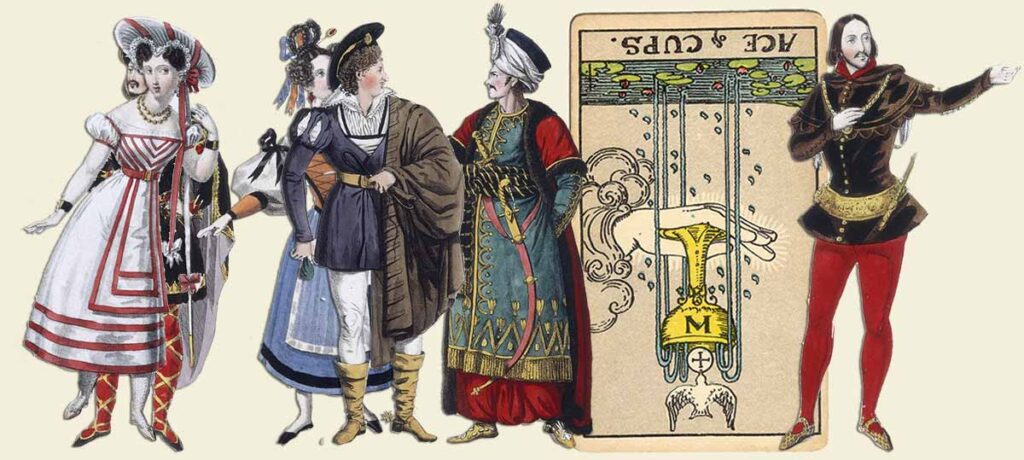 With this card, there isn't a straight answer. That may be because of the power that the Ace of Cups holds. It represents love and compassion and the link between your conscious and subconscious, so when it appears reversed, it doesn't necessarily mean that you are no longer a compassionate, loving, and kind person. It just means that you are not in control. Remember the cup? Imagine as if it was still and receiving every pure energy within the five senses, you would be throwing all of that away because you were too afraid of being overloaded with all that energy and the power that it comes with. This simply means to let it flow. Allow the universe to do its part and allow yourself to feel everything, you are more capable of receiving than you can imagine, and no, you will not fail. Because when it comes to emotions, there isn't a wrong way. It's just the way you allow yourself to feel and give that energy back that can change everything. So be prepared to let yourself just sip in all of what the universe is trying to give you and share it, you are the right person to do so.
Ace of Cups meaning for Love – Yes or No?
Love is probably the purest of the emotions, allow it to happen. Allow yourself to feel and cherish the ones you love. The Ace of Cups symbolizes the connection between your body and your soul, you are full of energy, and love is energy. Give it back, love back, enjoy every second of it. Spoil the ones you love with the biggest gift you can give them, which is yourself. Make their lives worth living. Make sure that you are there to support and love them. There is no better feeling than to share the love with the people that are part of our lives, or even strangers. You know that feeling when you give someone such a small gift like a smile, a caring word, you do that all of the time, so you know the peace that you feel within you. That is your power.
Ace of Cups reversed meaning for Love – Yes or No?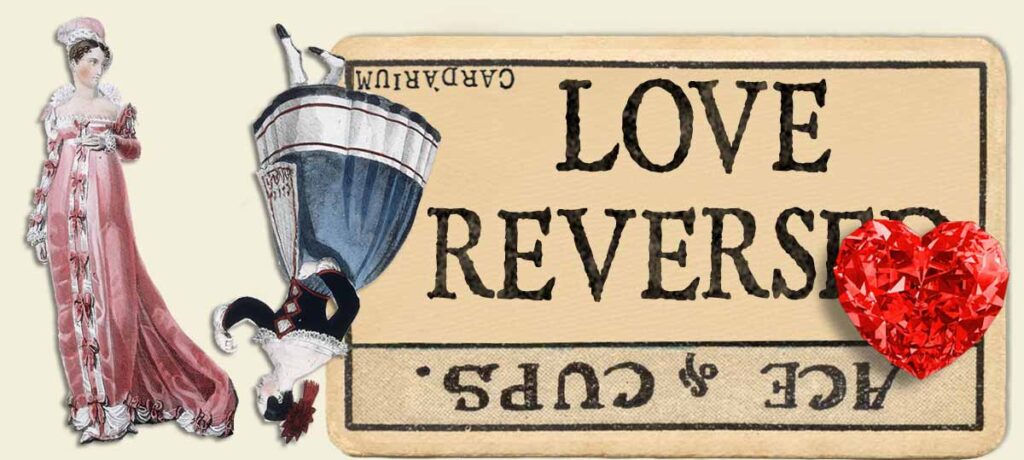 It doesn't have to be this way, you know? You are probably blaming everything on yourself. Because you are an emotional wreck at this moment and you can't blame the ones you love, so repressing your feelings might be your answer. Haven't you noticed that it's all too much? You have to let go and allow yourself to feel. Fear is what's stopping you, don't let it control like you. I'm sure that you are afraid to hurt the ones around you and that's perfectly normal, you need to watch out for what you say and do right now, because although there is nothing wrong with you, you may just feel like a ticking time bomb. Try to receive the energy around you; acknowledge that you are filled with pure love and kindness. Acknowledge that you are worth loving and so much more. Let go of the guilt and embrace love.
Ace of Cups as Advice – Yes or No?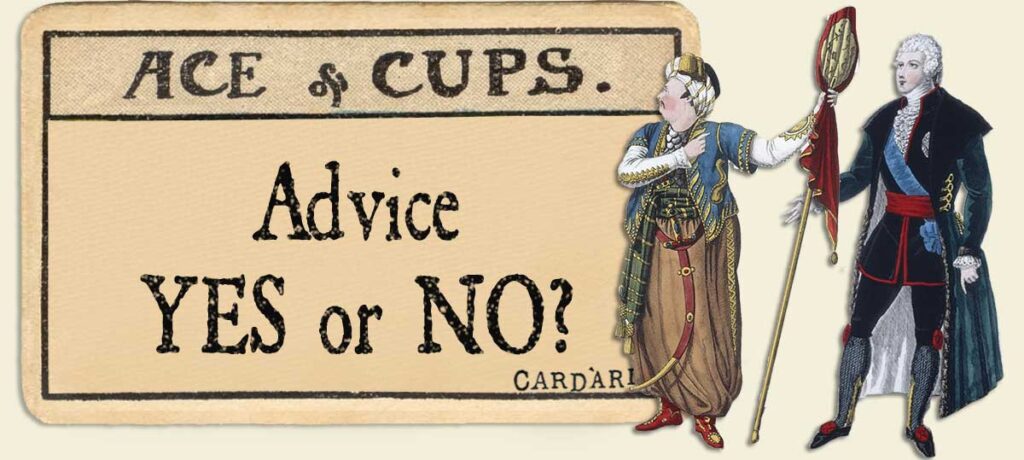 The cards couldn't be more clearer. You have what it takes, so don't second doubt yourself. You are here for a reason, and your power does matter, you have the strength to do anything that you wish to do, you just need to manifest the power within you. You already have all of the answers, but you knew that already, didn't you? The purest of people sometimes have a hard time accepting their greatness. But you are in the right place at the right time, so don't hold back. Allow everyone who is around you to see how amazing you truly are.
Ace of Cups reversed as Advice – Yes or No?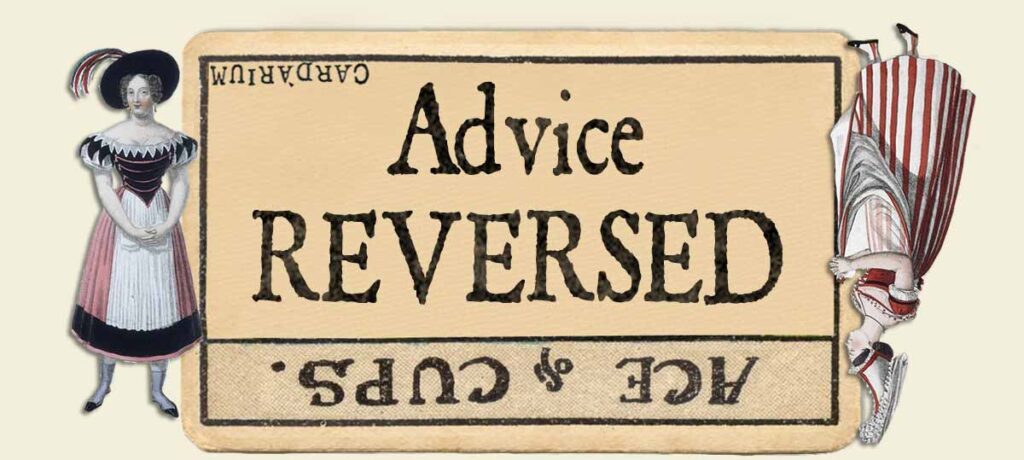 All those questions trapped inside your mind are just a trick of your own fear of failing, don't allow those feelings to overpower you. You are just in a vulnerable place right now. Everything within you is telling you that you can't do it, but you can. You just have to hear your inner voice, that whisper that might be too quiet right now, but it's there. Turn off all of the noise around you and connect yourself with that feeling. Your intuition is trying to tell you something, but the anxious feeling attached to all those scary feelings is not allowing you to hear it properly. It's ok to let yourself listen to it, and it's okay to love yourself. It's okay to allow yourself to be the person that you know you are.
Ace of Cups Yes or No Career and Job Offer
Take the opportunity. This is perhaps the best time for you to allow yourself to embrace new opportunities and let your creativity flow. You have so much potential within you, and the only thing that you need to do is encounter success to allow yourself to embrace every opportunity and express the best in you. There is no reason for you to be fearful of failing, put that mindset aside, and follow your intuition. Your inner strength will guide you. Success is on the rise, so allow it to happen.
Ace of Cups Yes or No Reconciliation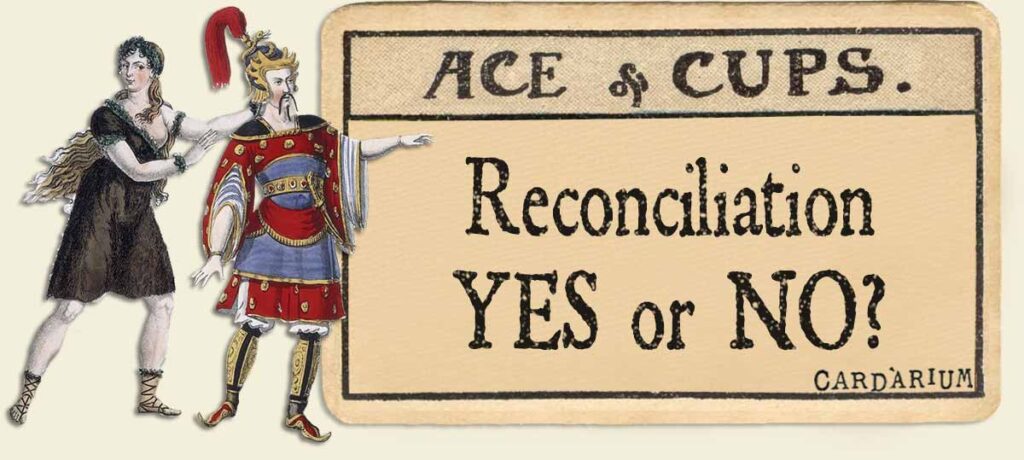 If you have been through a rough patch, then now is the time to allow yourself to accept your mistakes or other mistakes and move past them. You have the selfless power to forgive, and if you can do so, then there is an abundance of loving relationships waiting for you. If that person makes you happy and if your bond feels right, then why aren't you allowing yourself to be satisfied? Listen to your heart and follow it, it will be happily waiting for you, so embrace it, and don't let go.
Ace of Cups Yes or No Pregnancy
There is a big probability of a new life with this card. It can mean a conception or pregnancy, but it's not yet clear, you might have to look for the other cards for more support on this. The Ace of Cups can represent new beginnings, new opportunities, and of course, new lives, so it's a possibility that a newborn might be in your near future.
Ace of Cups Yes or No interpretation in a practical Tarot reading
How does a tarot reading look like? Here are some of the examples of readings in connection with the Ace of Cups.
"There are a lot of new beginnings in my life at the moment, I just got promoted at work, and my boyfriend now-fiancee just proposed to me. Do you think that I am on the right path?"
You are most likely where you were supposed to be all along. That doubt in your mind is only fear talking. But the inner you knows exactly what you want. Embrace the new opportunity at work, and give the ones you love the love that you so well know how to share. You are aware that you are on the right path. The only thing you need to do to feel like you belong is to embrace it. Good things are waiting for you.
"I have been working for the same company for the last few years, I do enjoy it, but I would like to start my own business. What do you think I should do with my career?"
You are engulfed with divine energy, your senses are at their peak, and the energy within you is waiting to burst and shower you with all the fantastic things that you should have and deserve to accomplish. This is perhaps the perfect time to follow your intuition and place all of that pure energy in good use. Your creativity is at its full maximum, so you should definitely take full advantage of that and see how much you can actually achieve.
"I have been in previous relationships, but nothing seems to work, I start wondering if there is something wrong with me or just bad luck with guys. Why am I single?"
The reason why you have been failing at most of your connections has nothing to do with your ability to love, but instead, it seems like you were not ready to receive it. The Ace of Cups is a sign that you are prepared to embrace all the positive things out of life, including love. You should put your defenses down and allow yourself to experience true love, without the fear of resentment. Your heart is craving for love to fulfill your soul, so let it happen, allow yourself to be happy.
"I had been let go of my previous job about five months ago. Finally, I got called for an interview last week, but haven't heard anything back yet, will I get the job?"
I have a sensation that you haven't expressed yourself as you think you should have during that interview. Something was holding you back for some reason, but what? Were you out of your comfort zone? Were you not trustworthy enough with your abilities? You are surrounded by so much inner power that it is hard to understand why you were holding all of that back. Perhaps a little glimpse of what you are genuinely about would benefit you in this case. The possibilities of your success is endless, but you need to allow it to happen, it might be worth clarifying what you are truly about before assuming that you have already lost an opportunity.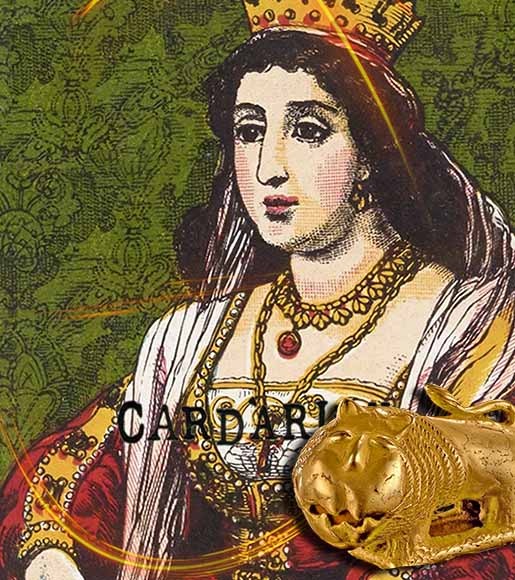 Her Majesty Tarot Queen
I read the cards with my eyes closed and my heart open. I don't sugarcoat the truth. After all, I'm not only known for my royal blood but also for my royal honesty.