The Six of Swords represents leaving a situation that no longer serves you. You have been in the midst of troubled times, and after thought and contemplation, you are doing what is best – walking away. There is sadness surrounding the image this card, but it does offer a hopeful YES.
Upright Six of Swords – Yes or No?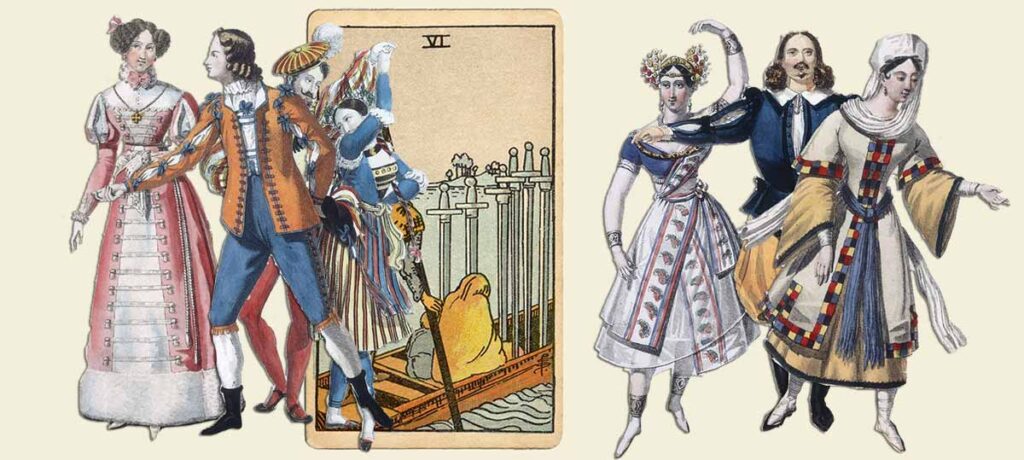 The Six of Swords arrive with the message that times are changing. In the image, we see a man rowing a woman and child away from rough seas. It has been hard, perhaps not just for you but others too. But no more are you willing to remain here, with limited power and happiness. The swords in the boat represent your memories and emotions still remaining within you. You have not forgotten the pain recent events have caused, and you carry them as a reminder that your past can serve your future well.
The seas afore you are much calmer, symbolising brighter and more hopeful times ahead, but for now, as all three row away with their backs turned, they show determination to not look back, and to keep moving towards a better time. As you continue to move, you continue to heal from what has caused undue pain and sadness. The Six of Swords offers a most likely YES, but ensure you are fully equipped to embrace a fresh opportunity to be happy once more.
Six of Swords Reversed – Yes or No?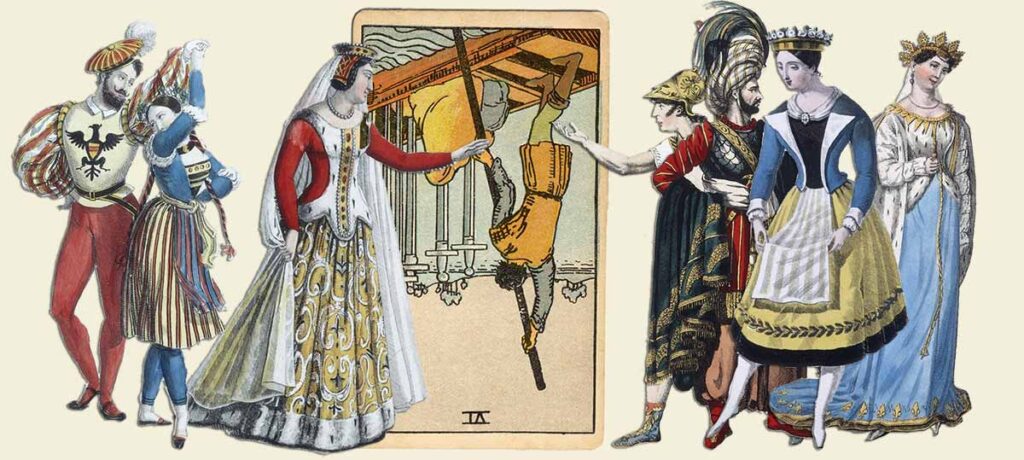 What do you feel about your life right now? Are you content, or content to be stuck? In reverse, the Six of Swords is indicating that your life may be stuck in the mud. There is life and promise all around you, but you cannot reach it until you remove yourself from whatever is holding you back.
When you feel the way you currently do, it is hard to imagine a life outside of it. Is it possible to be happy on the other side of sadness? Could it be that you have options, many options, to explore what life is all about? When you feel overwhelmed, change can exacerbate that but in the log run, you need to consider what would fair better, stagnation or change?I offer you a most likely NO for the Six of Swords in reverse, but there is hope if it sits beside transformation cards such as the Death or the Fool cards.
Six of Swords Meaning For Love – Yes or No?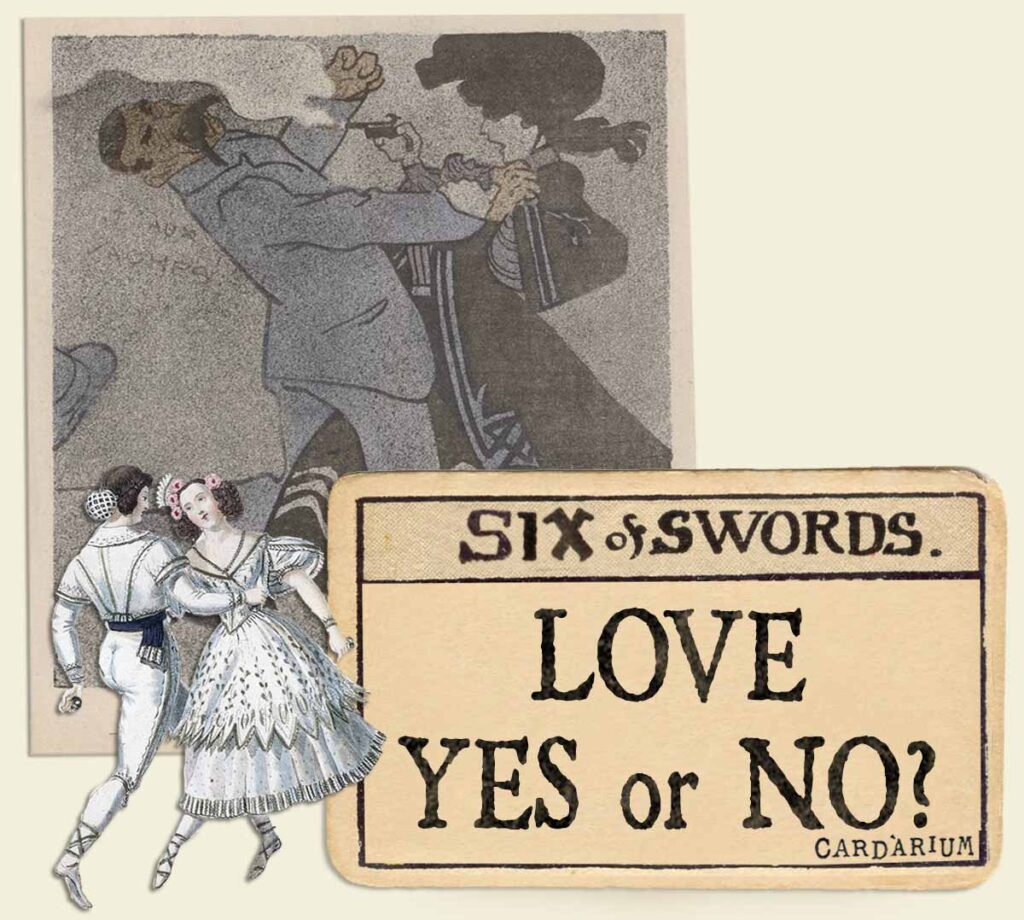 Love is the most joyous emotion of all. To give our souls to another with the hope that they take good care of it, is a very vulnerable act. When love or relationships are not nurtured, they can become turbulent and what the Six of Swords is telling you, is that you are heading towards a place of peace.
This doesn't necessarily mean into the arms of someone new, it can mean a fresh chapter in your current situation, but that depends on how willing you are to remove the negative cycle you have been stuck in. If moving on and finding joy in new love is what you desire, this card offers you the chance to explore that. In love, this is a hopeful YES card. You are becoming unstuck.
Six of Swords Reversed Meaning For Love – Yes or No?
In reverse, there is a sadder tone to the meaning behind the Six of Swords. Clouds have shrouded your soul for some time now, and you are in need of healing. There is difficulty in doing so, and that is what is holding you back. It is painful, I know. Sometimes the hardest thing is letting go, whether that is of your own hang ups or of a pained emotion.
It is wise to remind yourself of your value. Your image you hold of yourself has become so distorted, but this doesn't have to remain so. Other people most certainly don't see yourself in the negative way that you do. We all deserve happiness and you are no exception. This is yours for the taking, and offers a hopeful YES, even though you may not feel it right now.
Six of Swords Meaning For Advice – Yes or No?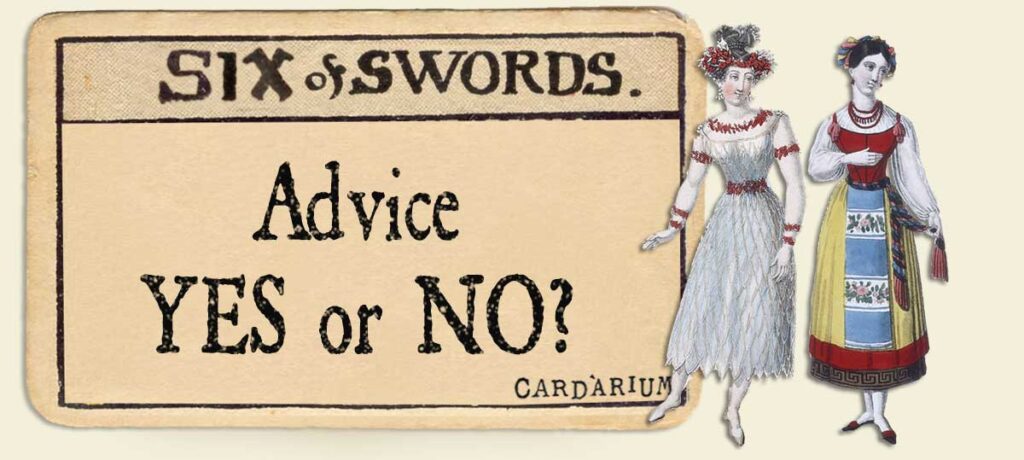 As the saying goes, 'wait for the dust to settle.' We walk along, merrily whistling to a tune and suddenly, everything is tossed in the air. You look around you, wondering what to grab first as you take the reins and try to juggle it all. If you caught what mattered, and let everything else go, eventually the dust will settle and things will be as they normally are.
If you want to take action, you first need to acknowledge the chaos around you. Notice what it is about you present that is holding you back ad ensure that where you want to go, is going to be a place where you can heal and recover wisely. A hopeful YES.
Six of Swords Reversed Meaning For Advice – Yes or No?
If you have been feeling unsure what to do for a while, now is a great time to take that leap of faith. There isn't a soul alive that benefits from wallowing and sitting in stale waters, knowing it isn't right or healthy. For you, perhaps this has been the case for quite some time. You may have even forgotten that you can get up and out whenever you want to, but you seem to prefer the safety of familiarity rather than the concept of improvement. Don't grapple with fear, and use this chance to turn things into a most likely YES.
Six of Swords Reconciliation – Yes or No?
The beauty about the Six of Swords, is that it is totally within your power to achieve both a yes OR a no. When you learn to deal with what has been causing you pain, you can make the ultimate decision of where you choose next. What do you feel sits best with you? There is most certainly a promising indication of change, as you move away from sorrow, but that can mean improving what is already there and becoming renewed together, or it could mean standing alone, walking away in search of new adventure. This can only be offered as a MAYBE – with you holding the decision firmly in your grasp.
Six of Swords Health – Yes or No?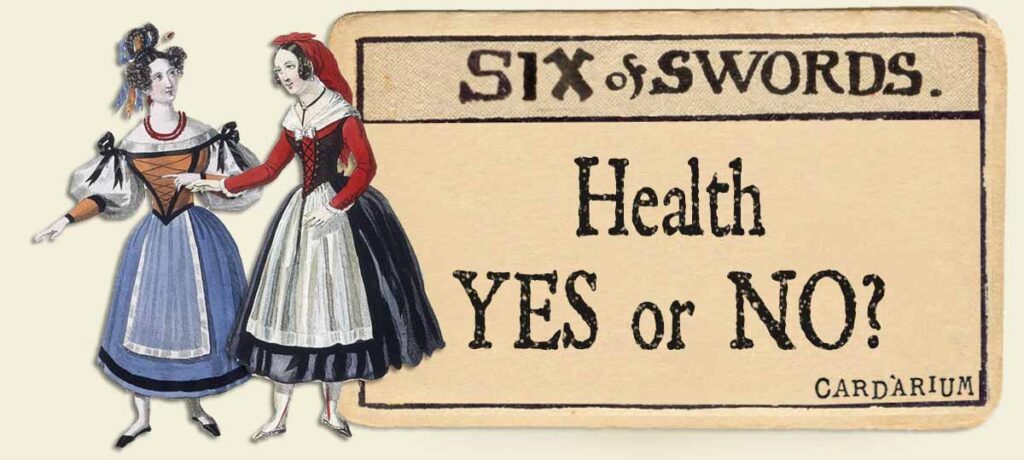 Being unwell can lead us to lack of energy and enthusiasm. If it lasts long enough, it can feel impossible to recall what 'wellness' feels like. Our health can be overlooked at times, where life takes over and we forget how to care for ourselves. You have fought long and hard to get to a place where you can stand and begin to consider moving forward once more.
As you gaze into the horizon, notice how incredible it looks. Serenity awaits you as the gift of patience and recovery. Whether you have been feeling drained, your you have been overthinking,leading to a lack of concentration, there is light at the end of the tunnel now and thankfully you can see yourself there. For health, the Six of Swords is a most likely YES.
Six of Swords Interpretation In A Practical Reading – Yes or No?
The Six of Swords has offered many people clarity in tough times. Here are a few popular examples I have seen recently.
"I have been in an unhealthy relationship for some time now and I need to make a decision. What should I do"
In recognising that your relationship is unhealthy, you are already halfway to making those necessary changes you need in order for your life to improve. For so long, we settle. Maybe we don't believe there is a happier time to come, or perhaps we might not sense the deserving notion that somebody else could make us happy, so we stay. If you are already sensing that this relationship has run its course, you need to take action to preserve your heart and start talking.
"I have been feeling so overwhelmed this year, with so many changes to deal with. How can I learn coping strategies?"
There isn't a soul alive who hasn't had to cope in some way with tremendous challenges. How people usually cope is by feeling easy to take just one small step, and make it a manageable change. You don't have to grab everything and do it all at once, you just need to learn one thing. Breathe deeper, pause for some time each day to listen to the birds or keep a journal. There are calmer times ahead, so hold onto that hope.
"My boss and I are clashing on a work project. How can I make going to work more desirable?"
Sometimes things can become stressful, and when you are at work, you have a reputation to uphold. It can feel like such an uphill climb when you feel like you are going nowhere fast, but this conflict will soon come to an end. Maybe you can both find a way to compromise, or it could be that you want to put your frustrations into a side project. However you achieve this upcoming stress free time, you will feel much happier when you get there.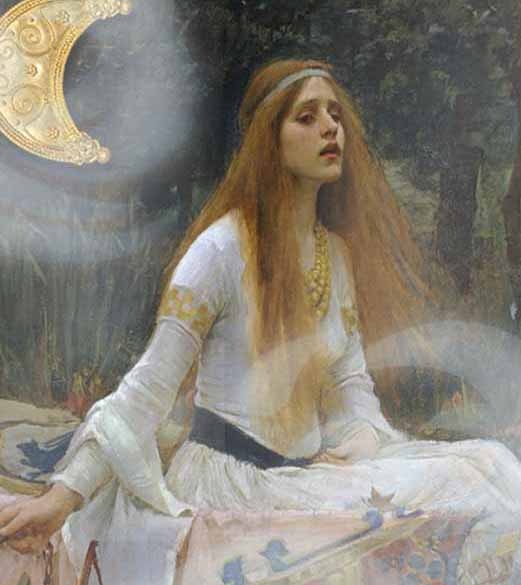 Majesty of the Rivers and Mists
I am Lady Avalon of The Night
A blessed being in disguise
My hair flows freely in the breeze
My guidance helps you feel at ease.