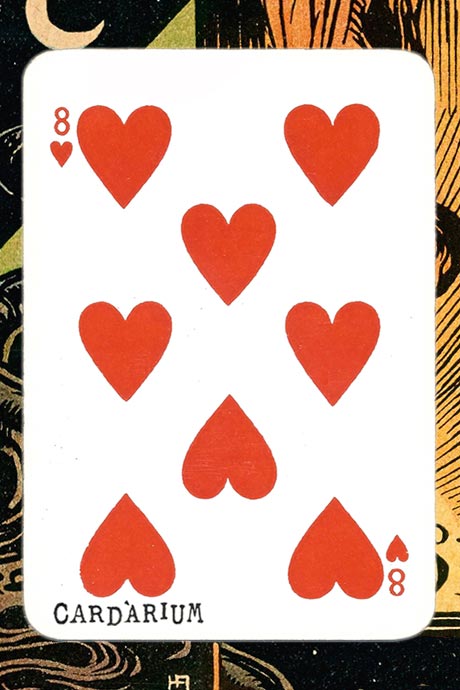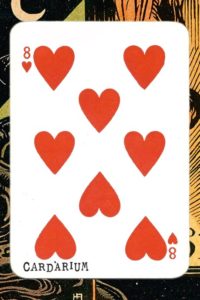 Eight of hearts meaning is related to success in love. It is a positive sign for a fulfilling long-term relationship with the person you love. Your marriage will be happy and free of domestic sorrows and misfortunes. Eight of hearts also indicates great satisfaction with children in a family.
Detailed meanings for the Eight of Hearts​
Five interesting questions about Eight of Hearts that people asked in May
"Does he like me even if I have a boyfriend?" — Christine
"Will he miss me if he broke up with me?" — Amanda
"He is making a fool of himself. Does he want me to notice him? Is this a valid signification of 8 of hearts?" — Julie
"Will she ever come back after dumping me?" —Joshua
"We were so close. Now he's different. He doesn't have a crush on me anymore?" — Cheryl
If you have a question, the cards have an answer. Just ask. 
Eight of Hearts meaning in a card spread. Try the original Cardarium readings.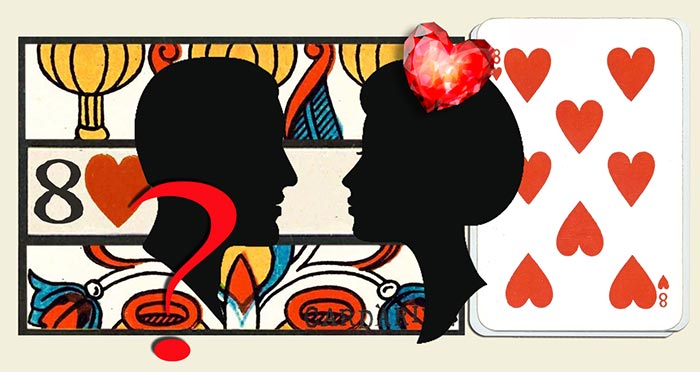 Cartomancy is never based on the interpretation of a single card. It is the interplay of the cards that creates the most interesting insights.
Go ahead and try the card reading below.
If you get the 8 of hearts on the first go – that's a sign of good luck. The Fortune  will smile gently and generously upon You.
Today's card reading is the Three Free Fortunes. It is based on the traditional French cartomancy. It is good for people who would like to get a quick, but serious reading of the day. 
A day without love is a year of emptiness… Check out your current standing with a Free Tarot Love Reading. It is good for people who appreciate the classic Rider Tarot presented in an accessible way. 
If you know what you are doing,  try the Free Card Spirits oracle. The unstable arcana spirits dwell in the beliefs of the consultant. If your belief is strong enough, they might help you in many ways – for example – conceive a baby, seduce a lover or curse an enemy. It is a dangerous kind of cartomancy, so it is not for the beginners.