5 of spades is a warning about an unexpected loss. In the coming days you will face elevated risks of accident, theft or decline in financial markets. The five of spades is a sign that Fortune wants to play a game with you. Take care and you still might outsmart the bad luck.
Detailed meanings for the Five of Spades​
Five interesting questions about Five of Spades that people asked in May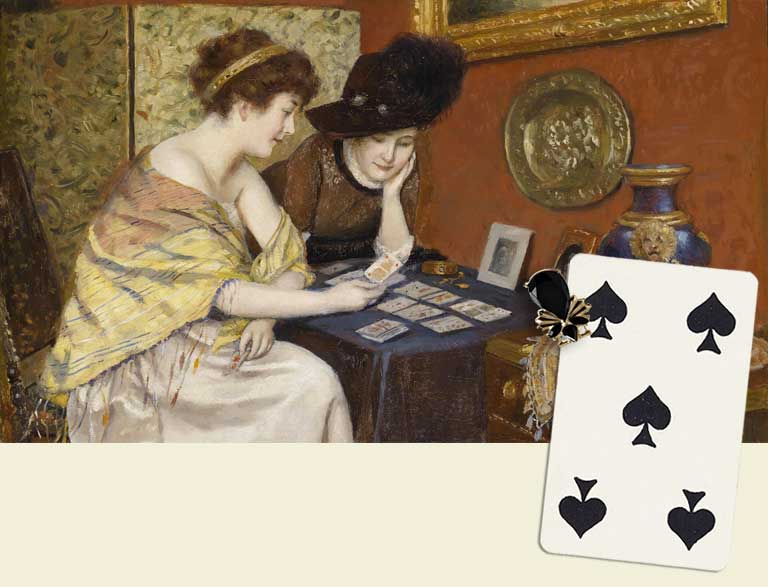 "Will she leave or stay?" — Peter
"I get 5 of spades for the second time. Is it a really bad sign? The question is – Would he be a good boyfriend?" — Judith
"Will she come back one day?" — Juan
"My husband died from lung cancer two months ago. Is he thinking about me? I know it's stupid, but I sometimes feel those shivers as if he is touching my hair." — Natasha
"He just wants to be friends but likes me?" — Marilyn
If you have a question, the cards have an answer. Just ask.  
Five of Spades meaning in a card spread. Try the original Cardarium readings.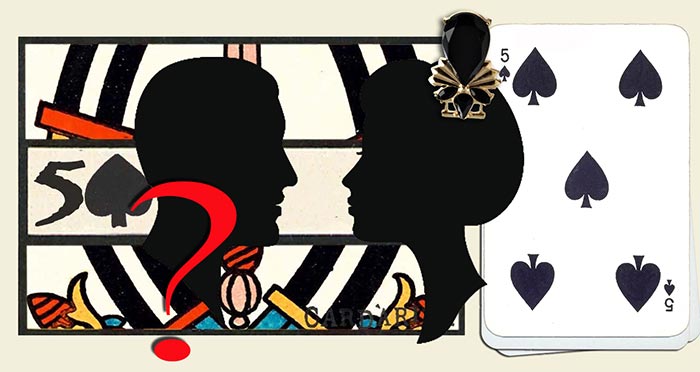 Cartomancy is never based on the interpretation of a single card. It is the interplay of the cards that creates the most interesting insights.
Go ahead and try the card reading below.
If you get the 5 of spades on the first go – that's a sign of good luck. The Fortune  will smile gently and generously upon You.
Today's card reading is the Three Free Fortunes. It is based on the traditional French cartomancy. It is good for people who would like to get a quick, but serious reading of the day. 
A day without love is a year of emptiness… Check out your current standing with a Free Tarot Love Reading. It is good for people who appreciate the classic Rider Tarot presented in an accessible way. 
If you know what you are doing,  try the Free Card Spirits oracle. The unstable arcana spirits dwell in the beliefs of the consultant. If your belief is strong enough, they might help you in many ways – for example – conceive a baby, seduce a lover or curse an enemy. It is a dangerous kind of cartomancy, so it is not for the beginners.