Hi there! Come in, don't be shy.
You can call Mistress Hekate. I'm exited to help guide your spirit through the wilderness of life. Trough writing, I hope to pass on my teachings and ideas to help all people feel connected and in tune with their physical and spiritual bodies. I like to see myself as a positive being, a shoulder to cry on and counsellor to advise, if this comes across in my writing to you then I see that as a job well done. Even if you do not believe in practices of witchcraft, I want to relay a positive message to you all, the world needs different believers, as long as those beliefs don't hurt anyone.
Are you ready?
Then open the card below and let's start our journey.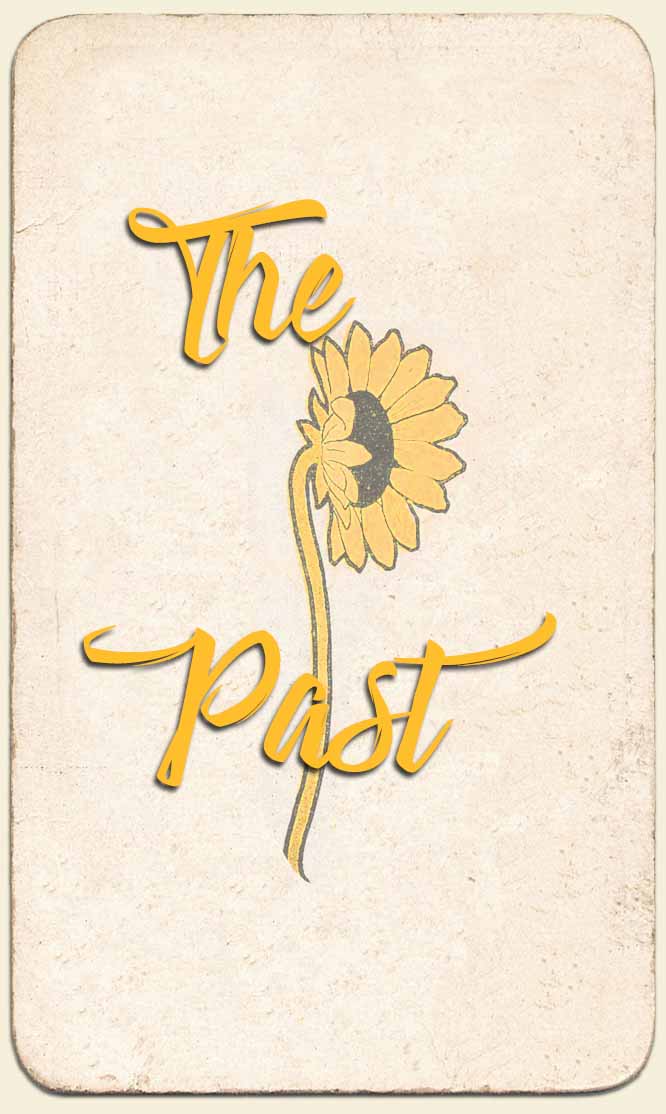 THE TOWER INTERPRETATION
Classic meanings
: Misery, distress, indigence, adversity, calamity, disgrace, deception, ruin. It is a card in particular of unforeseen catastrophe.
A special insight for love: Through all of it, he'll be your support, your anchor. You couln't have guessed how one man's shoulders can possibly be so strong.
Original description of the card by the author – Arthur Edward Waite: Occult explanations attached to this card are meager and mostly disconcerting. It is idle to indicate that it depicts ruin in all its aspects, because it bears this evidence on the surface. It is said further that it contains the first allusion to a material building, but I do not conceive that the Tower is more or less material than the pillars which we have met with in three previous cases. I see nothing to warrant Papus in supposing that it is literally the fall of Adam, but there is more in favor of his alternative—that it signifies the materialization of the spiritual word. The bibliographer Christian imagines that it is the downfall of the mind, seeking to penetrate the mystery of God (Nature). I agree rather with Grand Orient that it is the ruin of the House of Life, when evil has prevailed therein, and above all that it is the rending of a House of Doctrine. I understand that the reference is, however, to a House of Falsehood. It illustrates also in the most comprehensive way the old truth that "except the Lord build the house, they labor in vain that build it."
There is a sense in which the catastrophe is a reflection from the previous card, but not on the side of the symbolism which I have tried to indicate therein. It is more correctly a question of analogy, one is concerned with the fall into the material and animal state, while the other signifies destruction on the intellectual side. The Tower has been spoken of as the chastisement of pride and the intellect overwhelmed in the attempt to penetrate the Mystery of God (Nature), but in neither case do these explanations account for the two persons who are the living sufferers. The one is the literal word made void and the other its false interpretation. In yet a deeper sense, it may signify also the end of a dispensation, but there is no possibility here for the consideration of this involved question.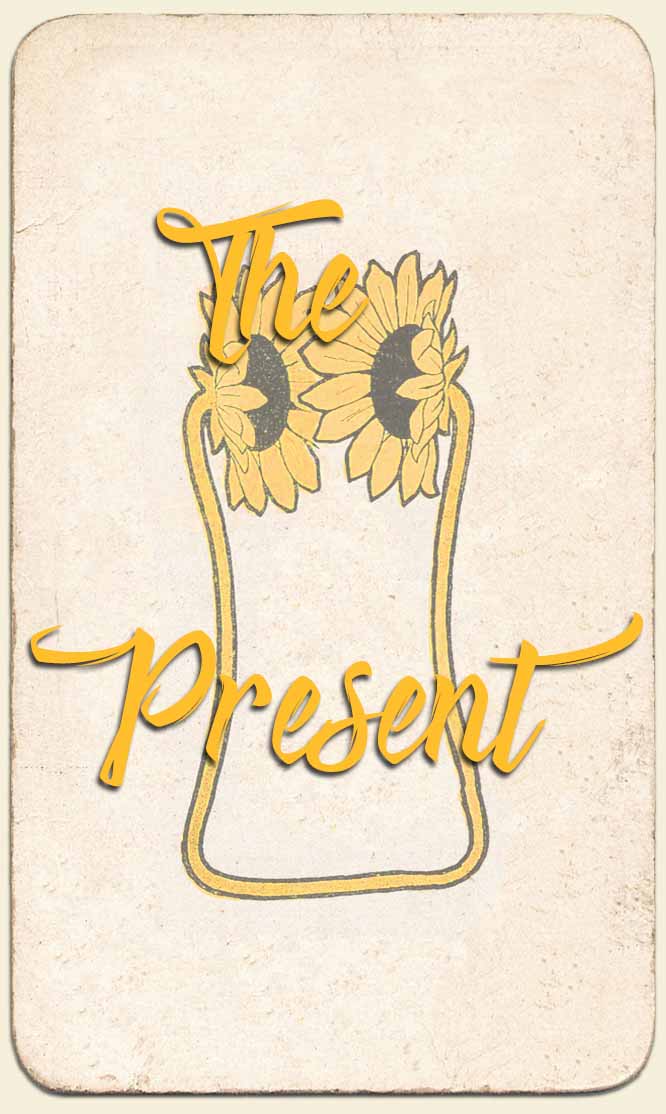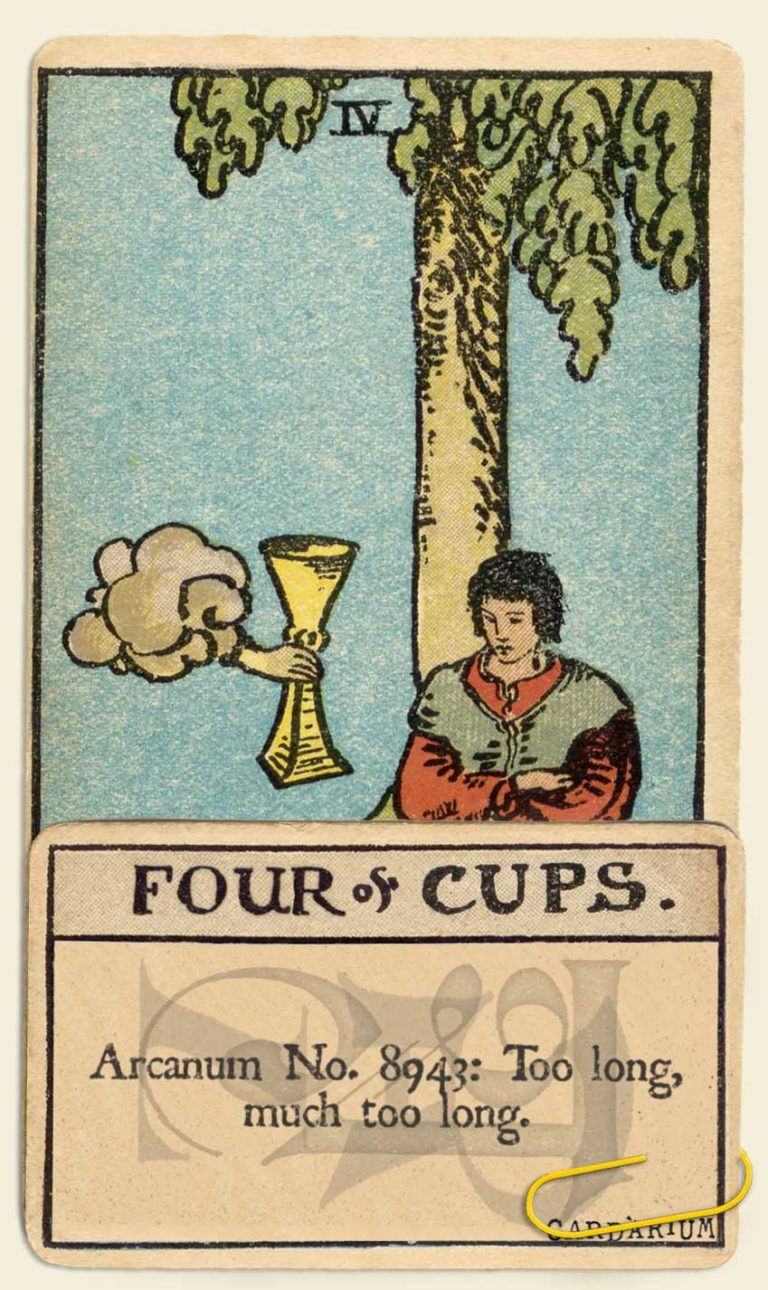 4 OF CUPS INTERPRETATION
Classic meanings
: Weariness, disgust, aversion, imaginary vexations, as if the wine of this world had caused satiety only, another wine, as if a fairy gift, is now offered the wastrel, but he sees no consolation therein. This is also a card of blended pleasure.
Additional omen for love: Too long, much too long.
Original description of the card by the author – Arthur Edward Waite: A young man is seated under a tree and contemplates three cups set on the grass before him, an arm issuing from a cloud offers him another cup. His expression notwithstanding is one of discontent with his environment.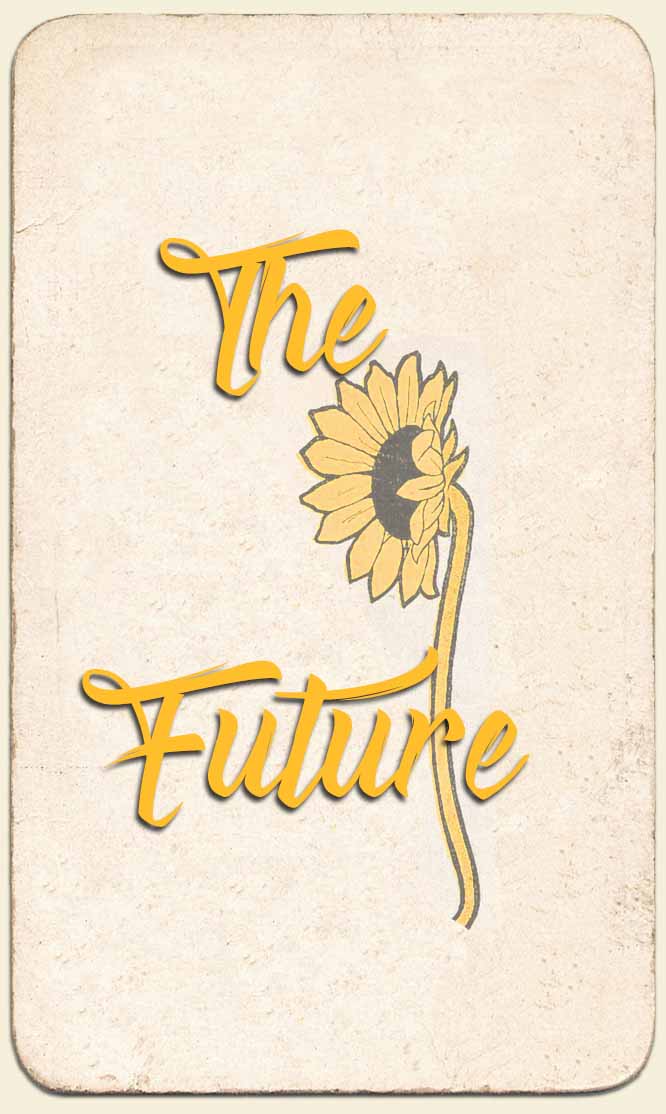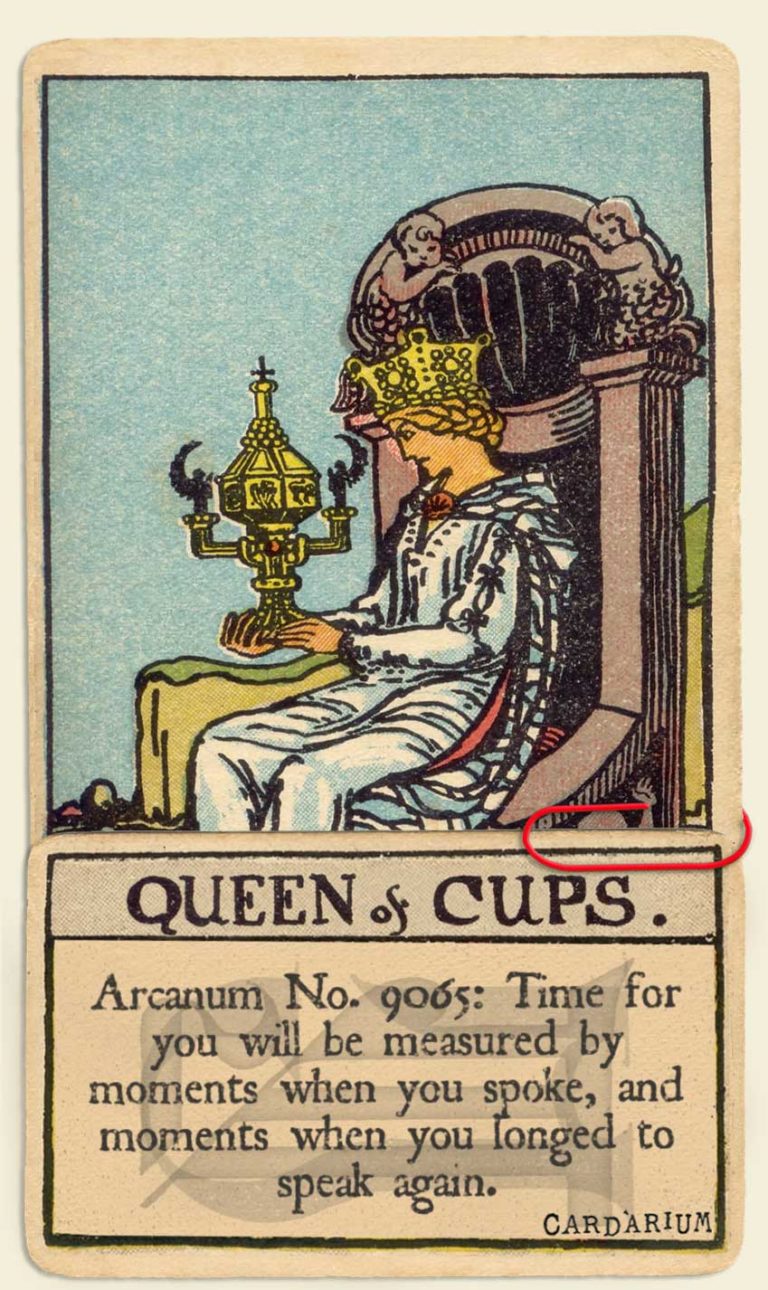 QUEEN OF CUPS INTERPRETATION
Classic meanings
: Good, fair woman, honest, devoted woman, who will do service to the Querent, loving intelligence, and hence the gift of vision, success, happiness, pleasure, also wisdom, virtue, a perfect spouse and a good mother.
In addition, it means for love: Time for you will be measured by moments when you spoke, and moments when you longed to speak again.
Original description of the card by the author – Arthur Edward Waite: Beautiful, fair, dreamy—as one who sees visions in a cup. This is, however, only one of her aspects, she sees, but she also acts, and her activity feeds her dream.
Is there one God that rules the world of Tarot, or, perhaps – many Gods who dwell in the cards from the times immemorial?
Personally, I believe that there is not a singular divine being who influences our world but instead a divine energy that feeds into the universe's core, and we all contribute to this energy. That is not to say that simply staying positive is the cure to everything, but it is certainly not a bad start. I see negativity often gain more ground and popularity than positivity and it damages the soul of myself and the world.
Through meditation, I have seen the beautiful colours of the world that can only be seen through your mind. I have felt the flow of angelic energy through my body and I know that you can feel it too. You may think that my words are utter poppycock and that this is all just a placebo inside of my head. To that I say, so what if it is? If I can find myself in a state of calm and euphoria when practicing tarot and meditation, then it doesn't matter to me whether I got there through true spirit or a placebo effect.
What am I good at?
My specialities include reading tea leaves and working with tarot card interpretation. I think both of these practices are divine and can help you more than you may know. However, I do not claim to know everything, and I am excited to accompany you all on the journey and learn with you.
One thing that I am frequently asked is what my favourite tarot card is and the answer to that is The Sun. In my mind, it is one of the most positive cards that you can pull in a reading and as someone who has dealt with anxiety and depression for most of her life, I can say that seeing it never fails to put a smile on my face and it will always give me that semblance of hope that I so truly desire.
In my mind, my spirit is best represented through the moth, a being flying to the light and forever searching for its desire. If you see a moth remember these words that Mistress Hekate said to you, keep searching and don't give up for you will eventually find your light.
Mistress Hekate