Oh, finally, here you are. Take a seat. The water is boiling already.  I'll get you a cup of tea.
Nope, there is no telescope in my kitchen. I just knew you were coming.
A natural empath, I have always felt connected to the greater moods and energies around us in the world. I have always used things like tarot cards and palm reading as a natural way to understand that connection and find answers and guidance.
Intuitive abilities are the most natural of all the skills, but can be the hardest to trust and control. It has taken years of practice to understand and learn how to use my intuitive skills to the best of my ability. Sometimes the way I do something seems out of order, but it rings so true that there is no other way to do it and expect an accurate result. We have to pay attention to the signs that are given to us because if we don't, they will simply keep repeating themselves until they get our attention. Within these patterns are lessons and gifts that let us find our true selves.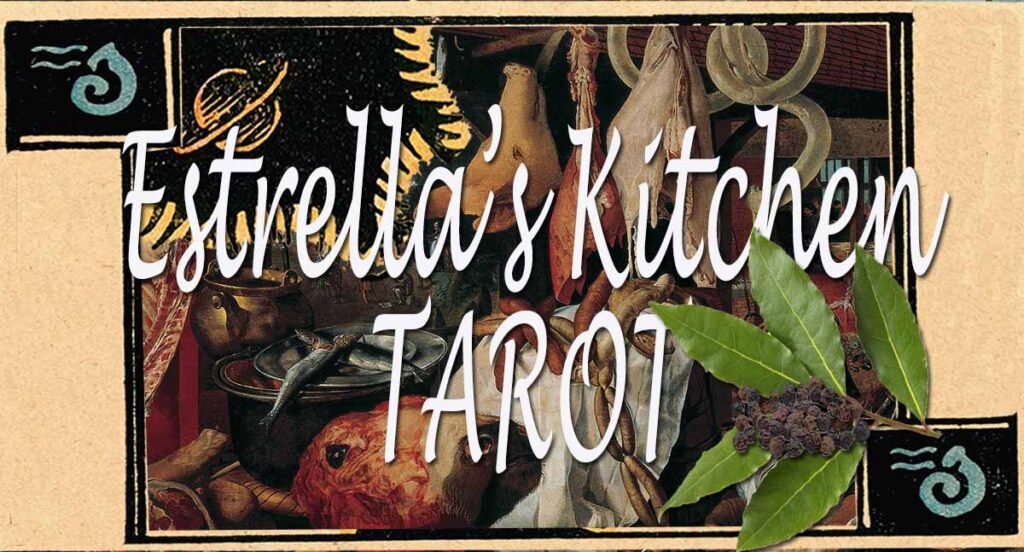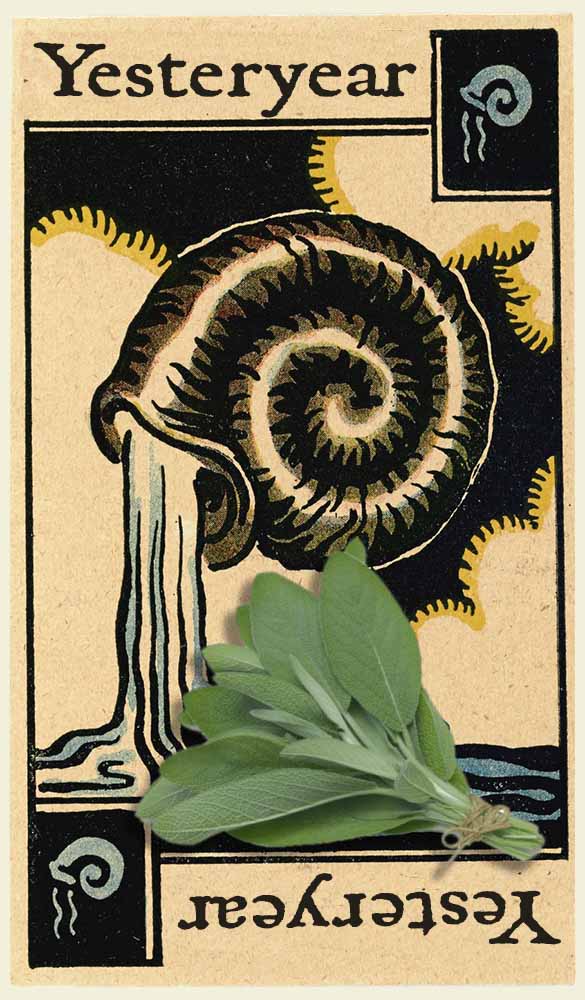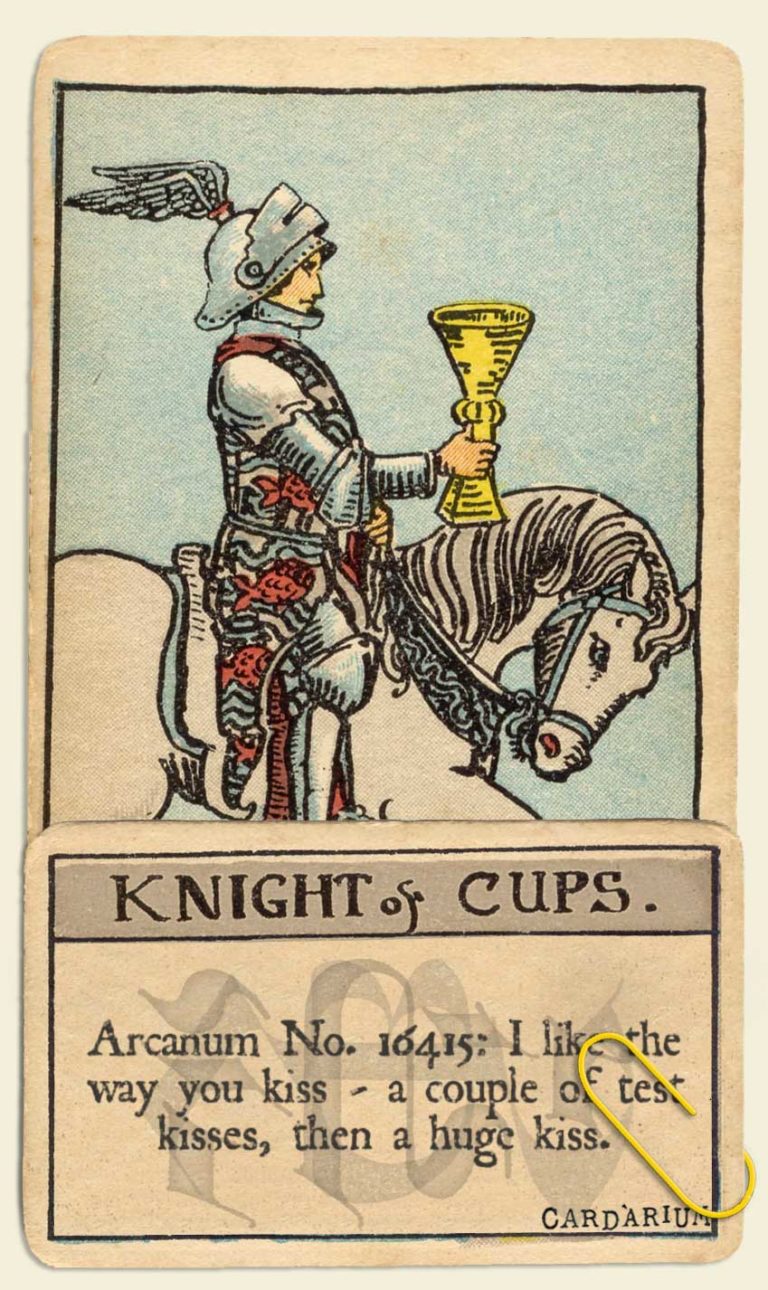 KNIGHT OF CUPS INTERPRETATION
Classic meanings
: Arrival, approach—sometimes that of a messenger, advances, proposition, demeanor, invitation, incitement.
In addition, it means for love: I like the way you kiss – a couple of test kisses, then a huge kiss.
Original description of the card by the author – Arthur Edward Waite: Graceful, but not warlike, riding quietly, wearing a winged helmet, referring to those higher graces of the imagination which sometimes characterize this card. He too is a dreamer, but the images of the side of sense haunt him in his vision.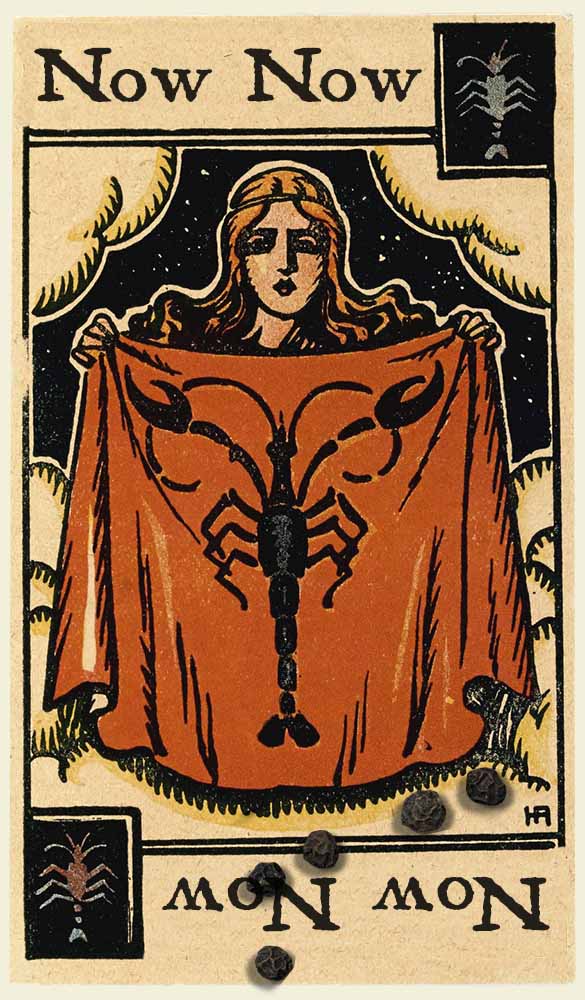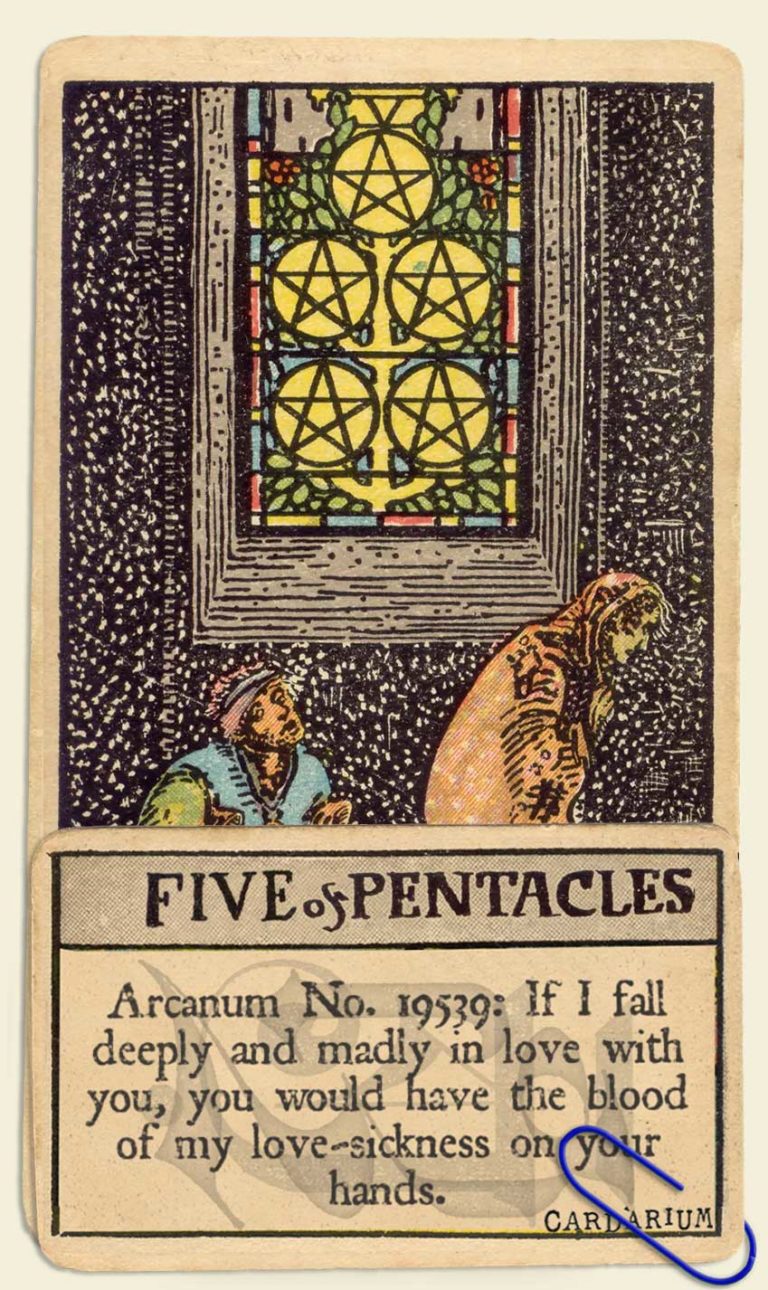 5 OF PENTACLES INTERPRETATION
Classic meanings
: The card foretells material trouble above all, whether in the form illustrated—that is, destitution—or otherwise. For some cartomancists, it is a card of love and lovers—wife, husband, friend, mistress, also concordance, affinities. These alternatives cannot be harmonized.
Concerning love, this card is clarified by: If I fall deeply and madly in love with you, you would have the blood of my love-sickness on your hands.
Original description of the card by the author – Arthur Edward Waite: Two mendicants in a snowstorm pass a lighted casement.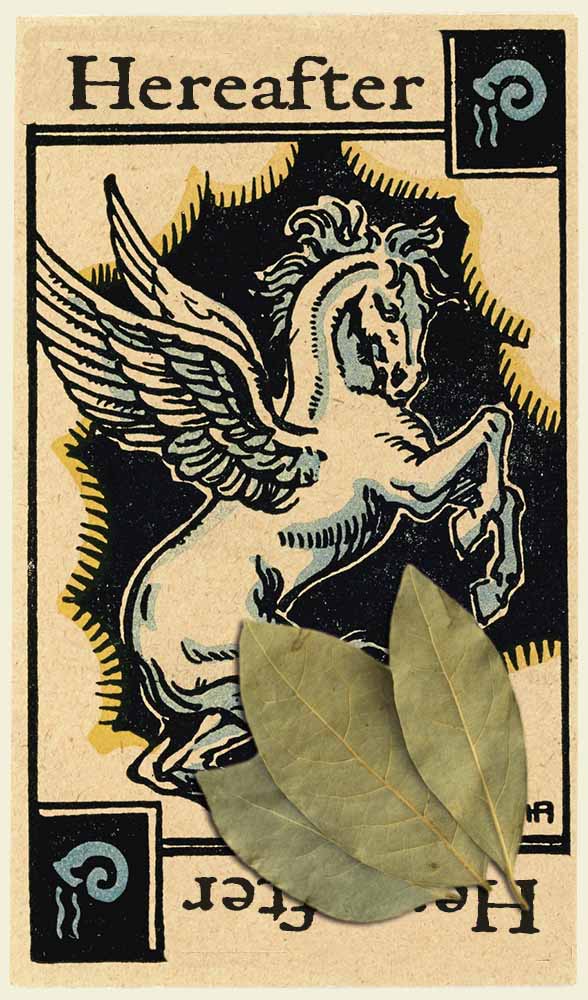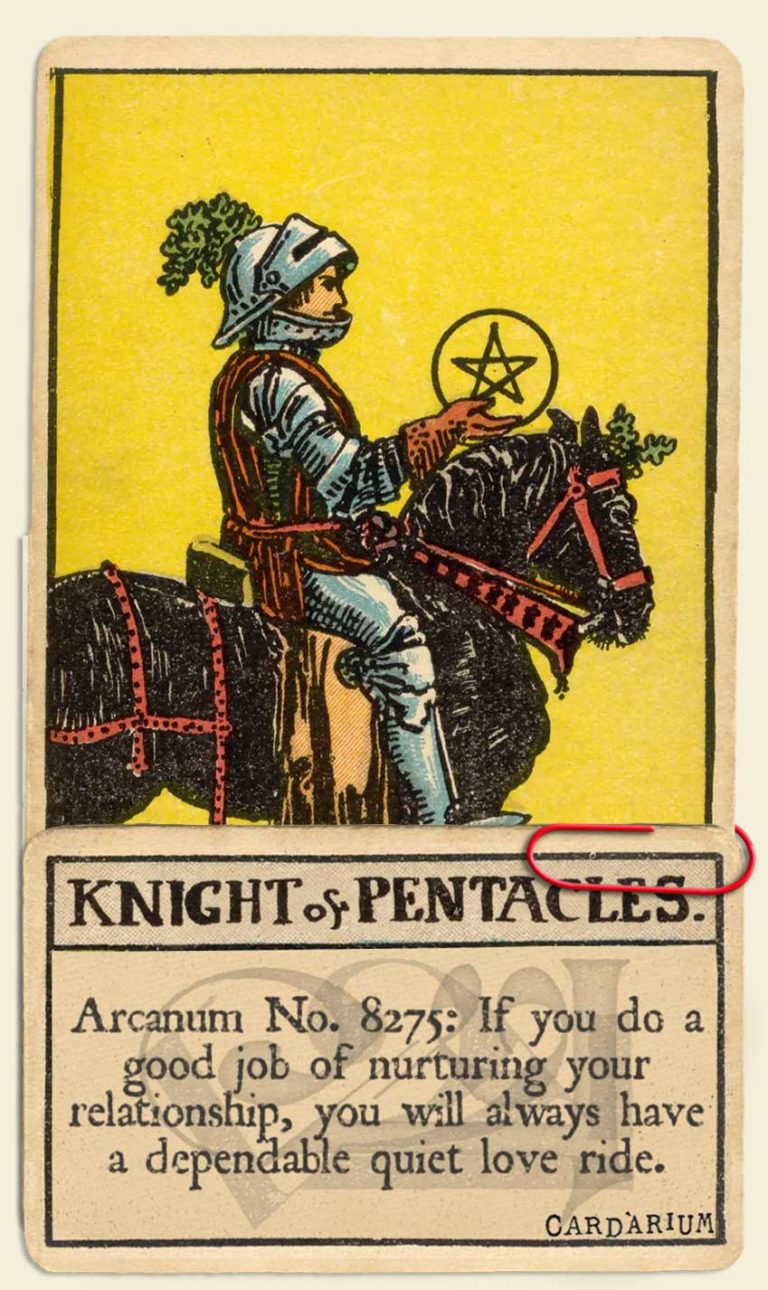 KNIGHT OF PENTACLES INTERPRETATION
Classic meanings
: Skill, bravery, capacity, defense, address, enmity, wrath, war, destruction, opposition, resistance, ruin. There is therefore a sense in which the card signifies death, but it carries this meaning only in its proximity to other cards of fatality.
Concerning love, this card is clarified by: He was just another cowboy looking for someone to shine his boots and she'd fallen for it. What a fool.
Original description of the card by the author – Arthur Edward Waite: He is riding in full course, as if scattering his enemies. In the design he is really a proto-typical hero of romantic chivalry. He might almost be Galahad, whose sword is swift and sure because he is clean of heart.
I believe the only way to have a true and strong connection to anything or anyone is by being honest about yourself, kind, and trying to let go of things that don't serve you while remaining open to possibility – something that can be a struggle at times! You need to know your own truth.
For me, that means knowing the most comfortable place to be is in my kitchen with friends around the table, creating community through food and conversation. I love creating a warm and safe space to bring people to, a place that is cozy and makes others feel welcome and at home from the minute they come through my door. Something of a 'kitchen witch', I know there are simple magics that are innately understood and can be easily infused into our daily lives.
Concerned about what energy might be hiding in your second hand clothes? Throw it in the washer with a sachet of dried cloves and juniper berries. Feeling out of focus with yourself? Wear a tiger's eye bracelet. Find an element that centers you and take advantage of it when it comes – I like to be in windy places, especially near water. It recharges me in a way that nothing else does.
I honestly believe that anyone can learn to harness and use their intuition to empower and improve their lives. It gives me such a sense of fulfillment to help others learn how to develop their skills in this area. The feeling of connectivity that I receive when reading tarot cards is comforting and empowering because it reveals parts of myself that I perhaps was neglecting or it reminds me to continue working on particular areas. It brings me closer to understanding the mysteries of the world around us.
More than anything, I love to share that feeling and ability with others. I am delighted to have the chance to share with you and hope that your heart continues to open as you learn more about your own amazing intuitive powers and follow your own unique path.
Laurel Estrella, Kitchen Witch
Estrella's secret recipe for happiness – list of ingredients:
tarot cards
a cup of tea
sage
zodiac
pepper
bay leaves