Oh, finally, here you are. Take a seat. The water is boiling already.  I'll get you a cup of tea.
Nope, there is no telescope in my kitchen. I just knew you were coming.
A natural empath, I have always felt connected to the greater moods and energies around us in the world. I have always used things like tarot cards and palm reading as a natural way to understand that connection and find answers and guidance.
Intuitive abilities are the most natural of all the skills, but can be the hardest to trust and control. It has taken years of practice to understand and learn how to use my intuitive skills to the best of my ability. Sometimes the way I do something seems out of order, but it rings so true that there is no other way to do it and expect an accurate result. We have to pay attention to the signs that are given to us because if we don't, they will simply keep repeating themselves until they get our attention. Within these patterns are lessons and gifts that let us find our true selves.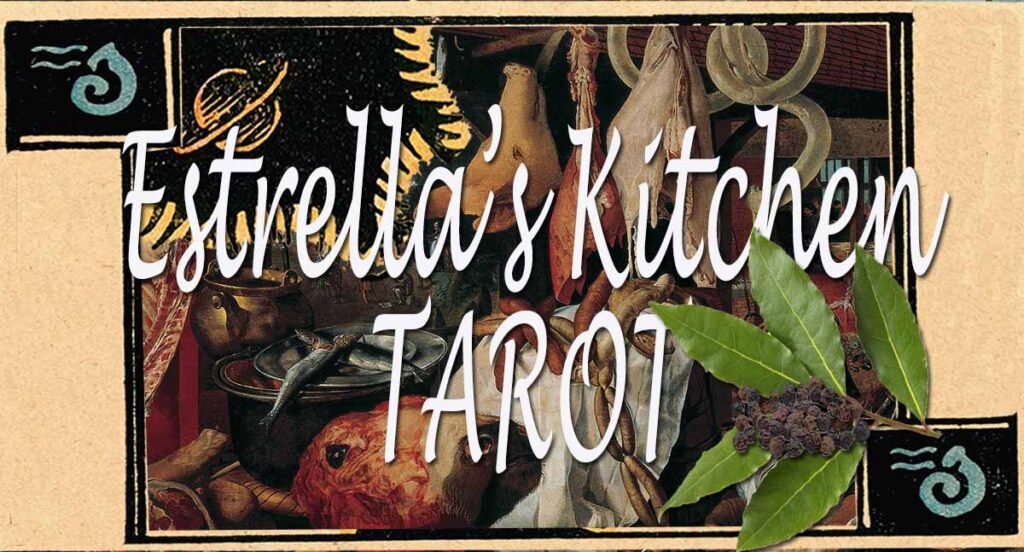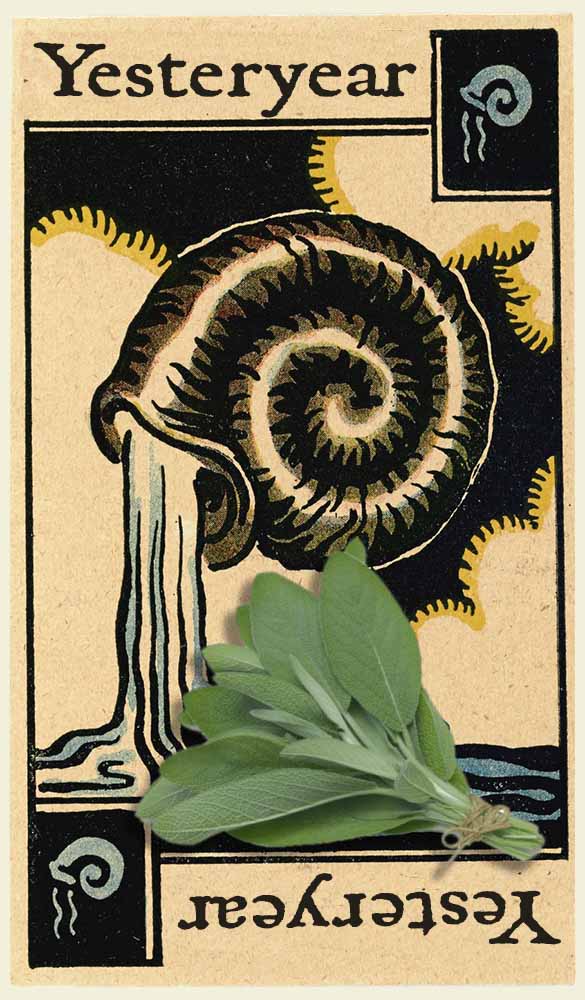 THE DEVIL INTERPRETATION
Classic meanings
: Ravage, violence, vehemence, extraordinary efforts, force, fatality, that which is predestined but is not for this reason evil.
In this tarot spread the card has complementary explanation: It had been a nice night, but not one they'd repeat. Like, ever.
Original description of the card by the author – Arthur Edward Waite: The design is an accommodation, mean or harmony, between several motives mentioned in the first part. The Horned Goat of Mendes, with wings like those of a bat, is standing on an altar. At the pit of the stomach there is the sign of Mercury. The right hand is upraised and extended, being the reverse of that benediction which is given by the Hierophant in the fifth card. In the left hand there is a great flaming torch, inverted towards the earth. A reversed pentagram is on the forehead. There is a ring in front of the altar, from which two chains are carried to the necks of two figures, male and female. These are analogous with those of the fifth card, as if Adam and Eve after the Fall. Hereof is the chain and fatality of the material life.
The figures are tailed, to signify the animal nature, but there is human intelligence in the faces, and he who is exalted above them is not to be their master for ever. Even now, he is also a bondsman, sustained by the evil that is in him and blind to the liberty of service. With more than his usual derision for the arts which he pretended to respect and interpret as a master therein, Eliphas Lévi affirms that the Baphometic figure is occult science and magic. Another commentator says that in the Divine world it signifies predestination, but there is no correspondence in that world with the things which below are of the brute. What it does signify is the Dweller on the Threshold without the Mystical Garden when those are driven forth therefrom who have eaten the forbidden fruit.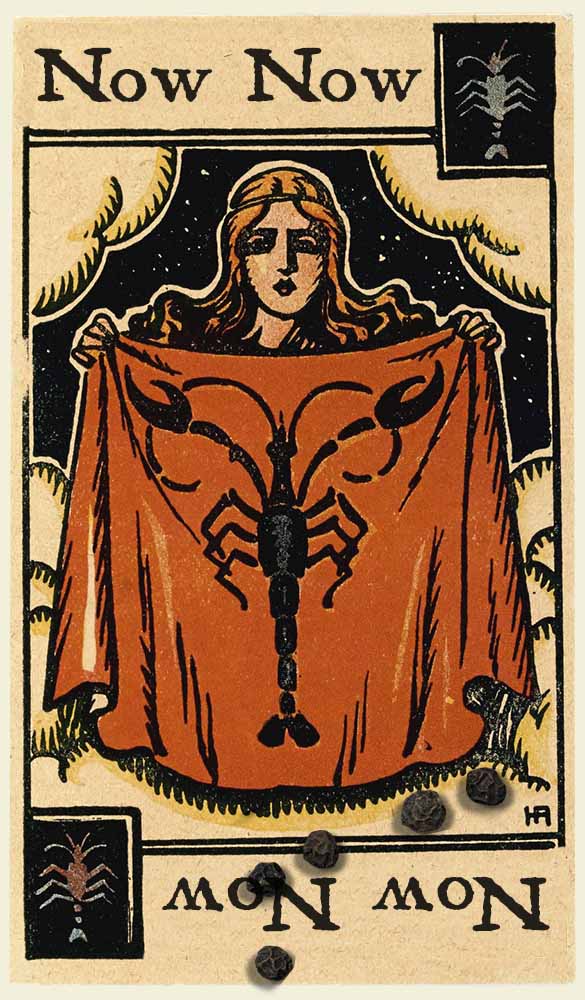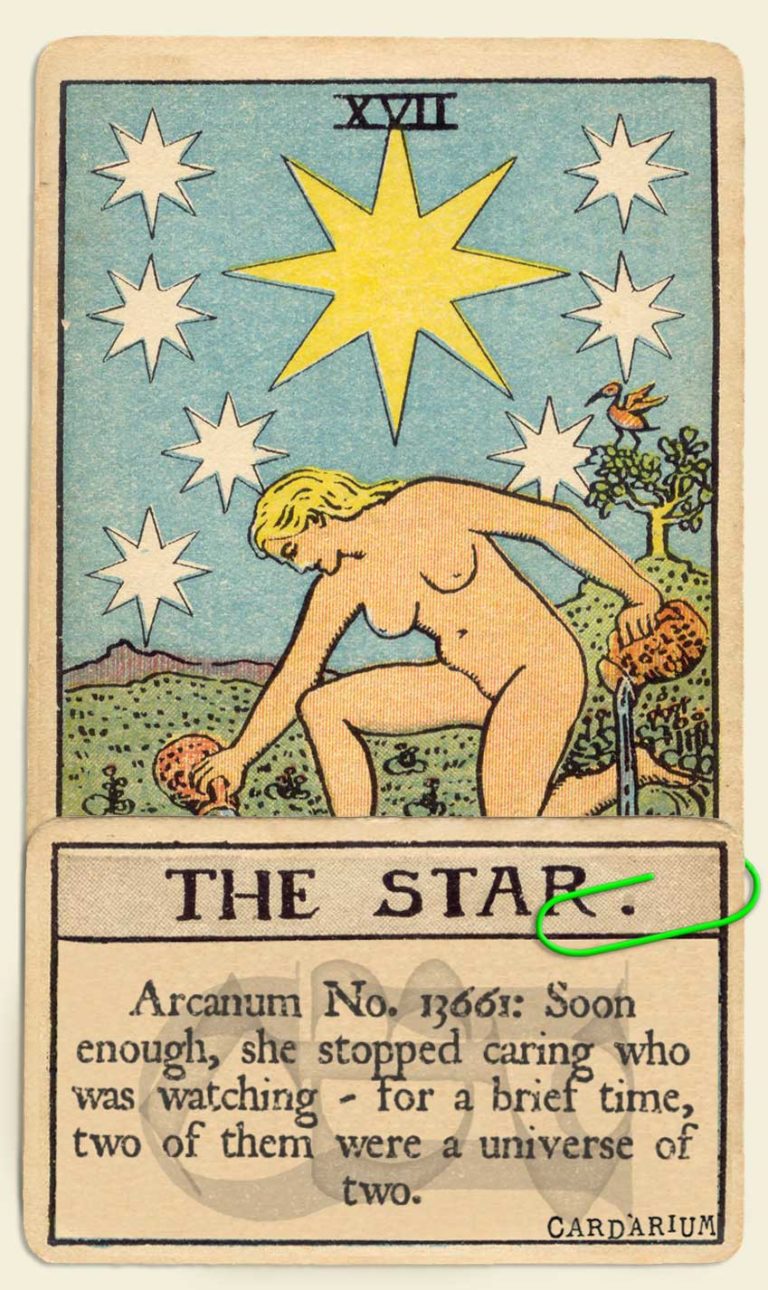 THE STAR INTERPRETATION
Classic meanings
: Loss, theft, privation, abandonment. In other circumstances it could also mean hope and bright prospects.
Concerning love, this card is clarified by: Soon enough, she stopped caring who was watching – for a brief time, two of them were a universe of two.
Original description of the card by the author – Arthur Edward Waite: A great, radiant star of eight rays, surrounded by seven lesser stars—also of eight rays. The female figure in the foreground is entirely naked. Her left knee is on the land and her right foot upon the water. She pours Water of Life from two great ewers, irrigating sea and land. Behind her is rising ground and on the right a shrub or tree, whereon a bird alights. The figure expresses eternal youth and beauty. The star is l'étoile flamboyante, which appears in Masonic symbolism, but has been confused therein. That which the figure communicates to the living scene is the substance of the heavens and the elements. It has been said truly that the mottoes of this card are "Waters of Life freely" and "Gifts of the Spirit."
The summary of several tawdry explanations says that it is a card of hope. On other planes it has been certified as immortality and interior light. For the majority of prepared minds, the figure will appear as the type of Truth unveiled, glorious in undying beauty, pouring on the waters of the soul some part and measure of her priceless possession. But she is in reality the Great Mother in the Kabalistic Sephira Binah, which is supernal Understanding, who communicates to the Sephiroth that are below in the measure that they can receive her influx.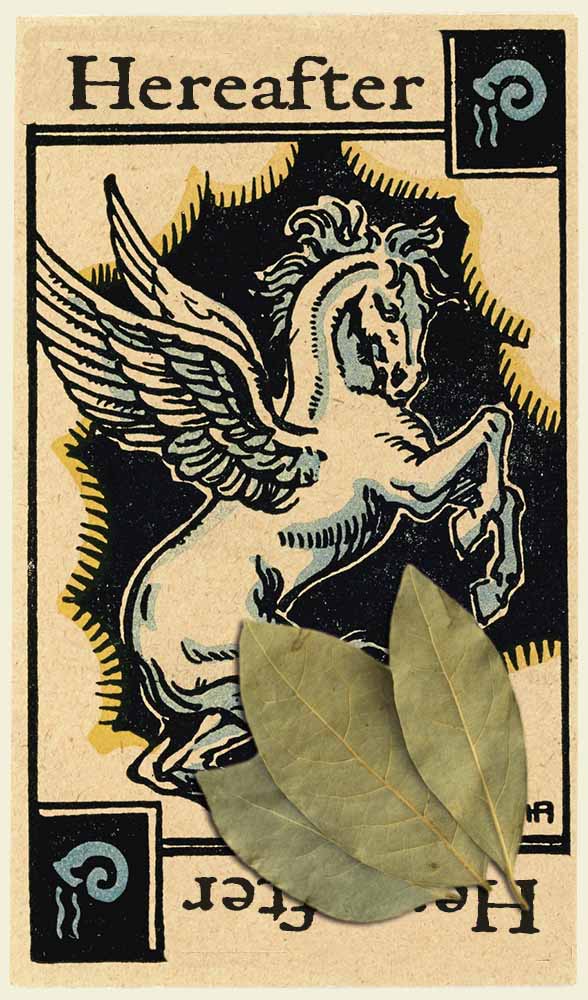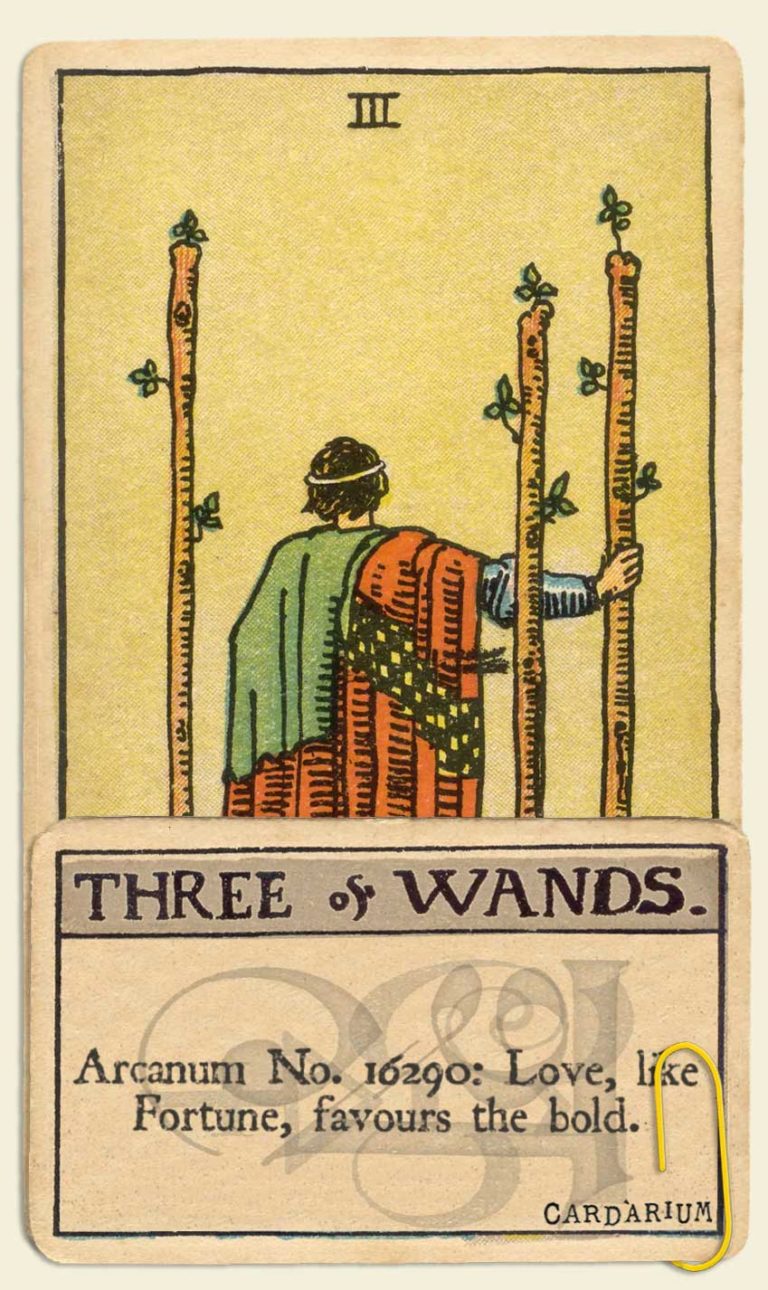 3 OF WANDS INTERPRETATION
Classic meanings
: He symbolizes established strength, enterprise, effort, trade, commerce, discovery, those are his ships, bearing his merchandise, which are sailing over the sea. The card also signifies able co-operation in business, as if the successful merchant prince were looking from his side towards yours with a view to help you.
A special insight for love: Love, like Fortune, favours the bold.
Original description of the card by the author – Arthur Edward Waite: A calm, stately personage, with his back turned, looking from a cliff's edge at ships passing over the sea. Three staves are planted in the ground, and he leans slightly on one of them.
I believe the only way to have a true and strong connection to anything or anyone is by being honest about yourself, kind, and trying to let go of things that don't serve you while remaining open to possibility – something that can be a struggle at times! You need to know your own truth.
For me, that means knowing the most comfortable place to be is in my kitchen with friends around the table, creating community through food and conversation. I love creating a warm and safe space to bring people to, a place that is cozy and makes others feel welcome and at home from the minute they come through my door. Something of a 'kitchen witch', I know there are simple magics that are innately understood and can be easily infused into our daily lives.
Concerned about what energy might be hiding in your second hand clothes? Throw it in the washer with a sachet of dried cloves and juniper berries. Feeling out of focus with yourself? Wear a tiger's eye bracelet. Find an element that centers you and take advantage of it when it comes – I like to be in windy places, especially near water. It recharges me in a way that nothing else does.
I honestly believe that anyone can learn to harness and use their intuition to empower and improve their lives. It gives me such a sense of fulfillment to help others learn how to develop their skills in this area. The feeling of connectivity that I receive when reading tarot cards is comforting and empowering because it reveals parts of myself that I perhaps was neglecting or it reminds me to continue working on particular areas. It brings me closer to understanding the mysteries of the world around us.
More than anything, I love to share that feeling and ability with others. I am delighted to have the chance to share with you and hope that your heart continues to open as you learn more about your own amazing intuitive powers and follow your own unique path.
Laurel Estrella, Kitchen Witch
Estrella's secret recipe for happiness – list of ingredients:
tarot cards
a cup of tea
sage
zodiac
pepper
bay leaves