The Hermit and The Devil – what does it mean?
The Hermit and The Devil walk alone but only one is considered lonely. You must observe your life and find balance.
Life: Materialistic, lonely, lacks warmth, addiction and solitude
Love: Self sabotage, toxic, uncaring yet aware of your misgivings
Career: Destructive, unreliable worker,feeling trapped yet holds the cards to change that
Health: Refuses to make any positive changes, too wrapped up in yourself, ailing physical and mental health, offers of help refused
Confident you are as you stroll through life, remember to take some time alone to count your blessings and re centre yourself from time to time.

The Hermit interpretation
The Hermit pauses when it is necessary.
You have survived a whirlwind and are eager to begin a new era but first, introspection awaits. During a previous time, you acquired spiritual skills previously unknown to you. Now you hold the cards, you must await in solitude for your next move. You do not stand in darkness, using your light as your beacon of hope, radiating in the distorted sky.
Never be fooled that standing still means lack of progression or the inability to push yourself. You are aware that a pause like this creates the energy and contemplation needed to commit yourself to future endeavours that will no doubt see you channelling your focus.
In love, life and career, you consider your next steps. Everything you need is inside you, and when in a reflective state, you can search away from the hustle and bustle of distraction. In your disconnect is where you find and overcome any negative force that battles your current state.
'I stand alone but I stand tall in the search for myself' – The Hermit
The Devil Interpretation
The Devil likes to disregard all that sets his soul free.
You may be feeling the lack of heart warming fulfilment in your life. You might buy something or turn to empty activities in a vain attempt to solidify those gaps, but in turn you are making the situation worse for yourself.
This excess living, whilst momentarily sets you free, leads you further and further into the corner of a room that you don't see as a place that serves you well. 'How did I get here?' you ask yourself from time to time. Instead of figuring this out, you turn to more materialistic ways to cope.
This excess living shows up in love, as the focus lies on you and you alone and little regard for your souls feelings. In work you may be feeling trapped or purposely ruining opportunities that come your way. You are likely to spend carelessly, with little time to worry about where your money goes. You may want to rethink the way you are moving forward in life.
'I feel empty and alone, even in a room full of people' – The Devil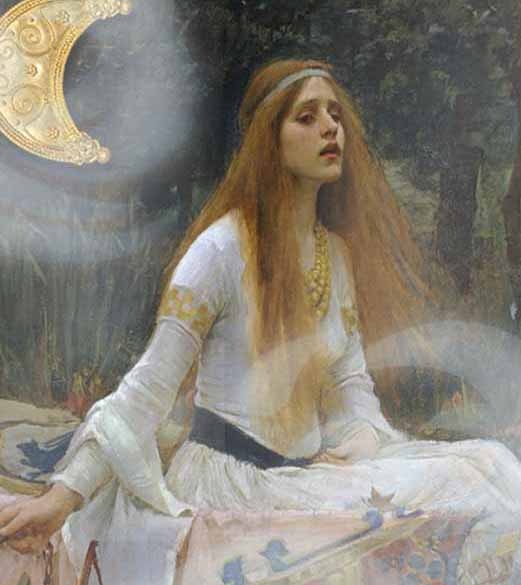 Majesty of the Rivers and Mists
I am Lady Avalon of The Night
A blessed being in disguise
My hair flows freely in the breeze
My guidance helps you feel at ease.