The Hermit and Strength – what does it mean?
The Hermit and Strength together exude inner power like no other duo. You have travelled a long, spiritual path and are a compassionate, patient soul.
Life: Confident, patient, calm, instinctive
Love: Confident lover, stable, attractive in body and mind
Career: Inspirational, compassionate leader, confident in your abilities
Health: Mind and body in balance, lot of time for yourself, works hard to keep a healthy soul
There isn't time for a single drop of worry here, with intuition and self belief leading the way to victory for a kind hearted and practical pair.

The Hermit interpretation
The Hermit pauses when it is necessary.
You have survived a whirlwind and are eager to begin a new era but first, introspection awaits. During a previous time, you acquired spiritual skills previously unknown to you. Now you hold the cards, you must await in solitude for your next move. You do not stand in darkness, using your light as your beacon of hope, radiating in the distorted sky.
Never be fooled that standing still means lack of progression or the inability to push yourself. You are aware that a pause like this creates the energy and contemplation needed to commit yourself to future endeavours that will no doubt see you channelling your focus.
In love, life and career, you consider your next steps. Everything you need is inside you, and when in a reflective state, you can search away from the hustle and bustle of distraction. In your disconnect is where you find and overcome any negative force that battles your current state.
'I stand alone but I stand tall in the search for myself' – The Hermit
Strength Interpretation
Strength is the sublime inner power of greatness.
You may be faced with adversity, but you approach it with such ease and confidence. You trust not only your reactions, but your instincts as you glide through life with courage and dignity. I see a graceful heart bowing to her own self confidence, and you are the one right now exuding this power.
You offer yourself to others in a compassionate manner because you come from a land of stability. This allows you to remain calm when clouds gather and the wind whips. Nothing comes from a plan on paper from you, and because your heart has come from more perilous times you are engaging well in peace and harmony.
You are in control, with love strong and filled with zest. In work you are moving mountains with ease and your finances are stable and secure due to your sensible saving abilities. Your empathy holds loved ones dear as you attract souls with similar traits of kindness. You treat others how you wish to be treated and have little time for self-doubt.
'I stand tall and soothe your worries with my courage and and compassion' – Strength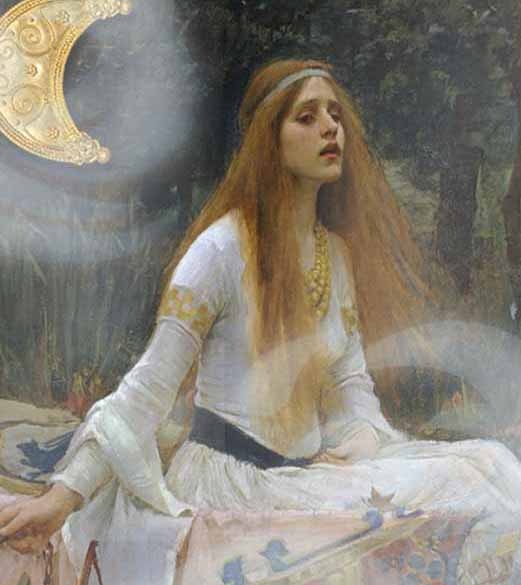 Majesty of the Rivers and Mists
I am Lady Avalon of The Night
A blessed being in disguise
My hair flows freely in the breeze
My guidance helps you feel at ease.